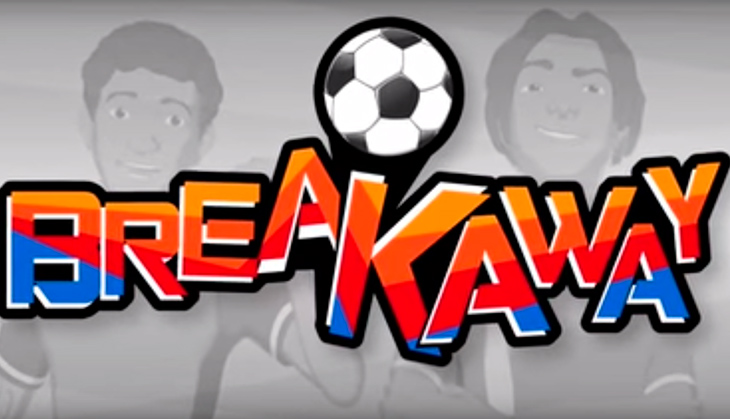 Videogames are addictive. So addictive that there have been multiple studies on how hardcore gamers confuse them with real life.
The average gamer is young and assumed to be impressionable by most of these borderline patronising studies. But what if a game could twist this impact and use it to bring about social reform?
That's exactly what Breakaway is attempting. A football game on the surface with way too many questions thrown at the player, Breakaway soon becomes about making life choices. Choices that could either result in gender-based violence, or not.
Also read: How Tibetan women in exile are using football to fight sexism
As the game's trailer says, "When the game is your life, will you breakaway?"
Football with a difference
The player may progress in the game as far as points go, but depending on their choices, their in-game character can regress, ultimately resulting in loss.
The characters in the game are very divided on most subjects, especially with regards to a female player joining the football team. As a player, you can choose to be on either camp, a choice that you make depending on the answers you pick - almost like a quiz, but with tough life choices instead.
Also read: How playing video games can change your retirement
Interestingly, the Breakaway database suggests that players generally tend to pick what's right. Over 86% of the players made the right decision with regard to how girls should be seen and treated in the game. This, of course, helped them move ahead faster in the game, as only a gender-sensitised player can ultimately win this game.
Divided in multiple chapters, the complexities of human relations get more challenging as the players move forward in the game. Here's a chapter that shows direct conflict between the team captain and Raina - the only girl on the team.
Why play something preachy?
Because it's football. The genius behind the game lies in the fact that it doesn't take away from the gaming experience.
You as a player would still enjoy the running, passing and tackling of the sport while dealing with challenges off the field too, much like real life. And that seems to work in Breakaway's favour.
Also read: #ConsentIsSexy says this new web series. We couldn't agree more
By choosing a male-dominated game like football as its medium, the makers of Breakaway infiltrate a space that was occupied by boys aged 9 through 12. An age where they're just beginning to make behavioural choices which could affect their female peers.
And it works
The best part about Breakaway is that it has been out in the field since 2010, giving it enough time to actually show solid results.
The game, created by students and staff at Emergent Media Center (EMC) at Champlain College, USA, has been distributed in 185 countries, including conflict-ridden areas like El Salvador and Palestine. The work being done in Palestine is especially significant as it means young boys and girls are being exposed to gender-neutrality in an environment that is otherwise anything but.
One word: Revolutionary
Additionally, research regarding Breakaway's impact done at Buffalo State University, New York, observed that there was indeed a behavioural change in children exposed to the game. They were more conscious and aware of their decisions.
While this is phenomenal, for them to branch out further into countries like India, for instance, the Breakaway team has tied up with Grassroots Soccer (GRS) which has been working on HIV and gender-based violence programmes since 2002.
The GRS-Breakaway partnership hopes to win Womanity Award in 2016. This would mean a US $300,000 prize which would help them develop a mobile version of the game, a medium that's increasingly popular among Breakaway's target audience. They also want to establish a localised narrative, where the player would get to experience the game in a space they're familiar with. They plan to start with South African townships.
Here's a video of how Breakaway has worked in a conflict-ridden state such as Palestine. It also explains the concept of the localised narrative.
Why we need this
There's the obvious reason: the world should learn to respect one half of its population. To achieve that, we must devise ways that positively condition an internet-distracted generation.
But there's also the smart way in which football is being reclaimed here. With a female player being the central point of conflict, the game also throws light upon how testosterone-driven the sport has become.
FIFA, in fact, especially under their former leader Sepp Blatter, has a pretty terrible track record when it comes to gender parity. Most recently, a large number of women footballers suffered injuries due to being forced to play on synthetic grounds during the 2015 FIFA Women's World Cup.
Notably, the tournament for men was played on the finest natural grass pitches available. When the managing body for the sport is so inherently apathetic to women, is it any wonder then that male football fans may also embody these traits. In fact, research done by Lancaster University showed that domestic violence in England increased by 38% on days the country's national team played and lost.
When EA Sports introduced 12 female players in their most recent iteration of the classic FIFA franchise, some fans positively foamed at the mouth with rage. Reading some of the comments online, it almost seemed like simulated players with female body parts were the end of the world. And this was 2015.
So for Breakaway to not just do away with this bias, but also to intrinsically question it, thereby forcing the player to make the right choice, is downright genius.
Edited by Ranjan Crasta
Also read: This post on Imgur for a 'reverse spy flick' with a female lead is just fab