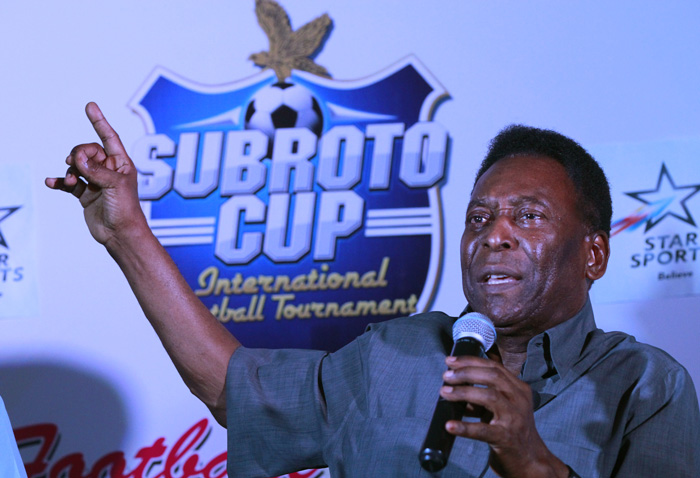 Brazilian football legend Pele will be at the Ambedkar Stadium in New Delhi today to cheer on the young footballers playing the final of the Subroto Cup. Teams from the All India Football Federation U-17 and Little Angels School, Manipur will battle it out for the prize today.
Pele last visited India to play an exhibition match for New York Cosmos against Mohun Bagan at the Eden Gardens in Kolkata, in 1977.
So what is this tournament that drew the footballer of the century to India once again on invitation?
The Subroto Cup is the most prestigious youth football tournament in India, and has played a vital role in promoting the sport at the school level ever since its inception in 1960.
The Subroto Cup was the brainchild of late Air Marshal Subroto Mukerjee. He conceived the idea of launching a junior level football tournament in 1958 when he was the Chief of the Air Staff. An ardent football lover, Mukerjee strongly believed that for the Indian team to achieve success at the international level, the sport needed to be promoted and developed at the grassroots level first.
Over the years, the scope of the tournament has been widened to include foreign participation as the next step forward in an attempt to give the Indian kids a chance to play against the best players their age in the world. Teams from Sri Lanka, Bangladesh, Nepal, Afghanistan, Malaysia, Israel, Bhutan, UAE, Uzbekistan, Switzerland, United Kingdom and Ukraine have participated in this tournament in the recent past.
The model is fairly simple - the best school team (U-14 and U-17) from every state in India plays in the final tournament held annually at the Ambedkar Stadium in New Delhi. Qualifiers are held all-year round. Additionally, European club academy teams are also invited. Ukranian club Dynamo Kyiv came visiting in 2012.
This year, the AIFF under-17 team was included to give them some exposure, and they duly made the final after defeating a school team representing Indonesia 2-0 along the way.
Coached by Floyd Pinto of Mumbai, the AIFF under-17 team have played clever attacking football throughout the tournament, and will be keen to impress Pele. It is also a once in a lifetime opportunity for the players of the other team from Manipur to catch the legend's eye.
The final will be telecast live on DD Sports today, 3:30 pm onwards.