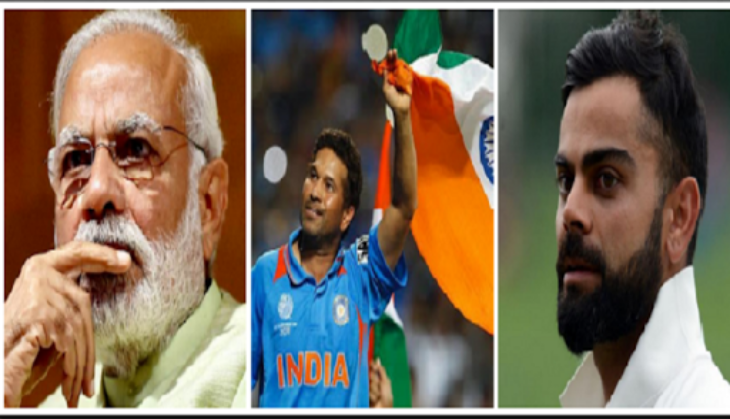 In the list of Twitter popularity 2017, two things were clear. One that even today Indian Prime Minister Narendra Modi is the most followed Indian and the only politician to feature in this year's list. And second not just on the ground but Virat Kohli also rules the micro-blogging site Twitter in 2017.
After Narendra Modi, Bollywood superstar Amitabh Bachchan comes second on the list. Followed by Shah Rukh Khan, Salman Khan, Akshay Kumar, Aamir Khan, Deepika Padukone, Sachin Tendulkar Hrithik Roshan and Virat Kohli.
With the way Virat Kohli has shattered records in the year 2017, it seems as if breaking records had become his habit. Not just on the field but even on the social networking sits. It was just a few days ago when Virat had surpassed Salman Khan by becoming the most followed celebrity on Facebook.
Now even though Virat is not the table topper of the Twitter popularity list. Yet he managed to beat the most followed person Narendra Modi in terms of follower base increasing. In the list, Narendra Modi's followers increase base was 52 %, but Virat Kohli's increase base was 61%. The legendary cricketer Sachin Tendulkar's followers were increased by 52%.
The list was mainly dominated by Bollywood stars, Narendra Modi is the only politician to make it in the list, Indian skipper Virat Kohli and cricket great Sachin Tendulkar also manage to make it to the list.
Also Read: Here is a list of 17 records shattered by Indian skipper Virat Kohli in 2017
Here's the list of most followed Indians on Twitter:
1. Narendra Modi – 37.5 Mn
2. Amitabh Bachchan – 31.6 Mn
3. Shah Rukh Khan – 31 Mn
4. Salman Khan – 28.6 Mn
5. Akshay Kumar – 22.9 Mn
6. Aamir Khan – 22.4 Mn
7. Deepika Padukone – 22.1 Mn
8. Sachin Tendulkar – 21.8 Mn
9. Hrithik Roshan – 20.9 Mn
10. Virat Kohli – 20.8 Mn