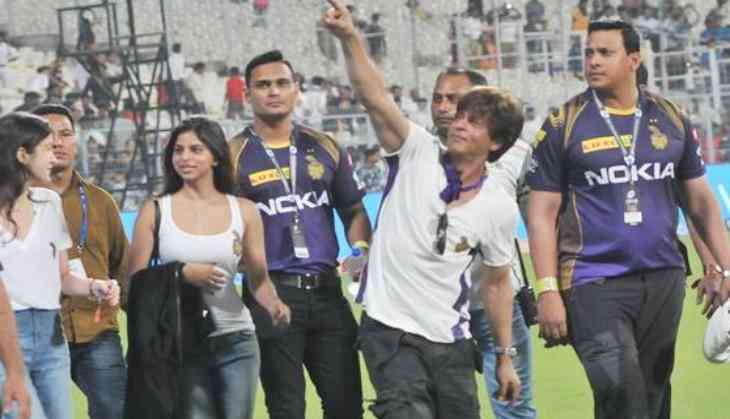 In the opening match of Shah Rukh Khan-led franchise KKR stunningly defeated their opponent Virat Kohli's Royal Challengers by four wickets. During the match, SRK was present at the Kolkata's Eden Garden's stadium cheering his team along with his son AbRam and daughter Shana. As we all knew it, SRK considers his kids as a lucky charm for him.
The entire Kolkata's stadium was united to celebrate the KKR's opening victory. In no time SRK joins his team on the ground along with his daughter Suhana to enjoy the moment with his squads. Suhana who is prepping for her Bollywood debut was accompanied by her best friend Shanaya Kapoor.
Also read: IPL 2018: Meet the youngest player of cricket field who born in 21st century and took wicket in his first over
The whole stadium was lit-up with giggles and people started hooting to celebrate their win. No doubt SRK was the heart-stealer at the match but when Suhana walked into the ground she stole the limelight from her dad and become a point if discussion. Her bright smile cheered up everyone in the stadium and all the fans across the country.
Not only Suhana but AbRam was also an integral part of the KKR's celebrations, and his charms always become the show-stealer.
Check out the winning moment of SRK's Kolkata Knight Riders and daughter Suhana celebrating the victory:
For FANs at Eden Gardens, this sight was equally important during the #KKRvRCB match! 💜✨ #KKR #IPL2018 #KorboLorboJeetbo • via - https://t.co/bqinZCuebo

• KKR HAI TAIYAAR • pic.twitter.com/6f117am7NX

— SRK Universe (@SRKUniverse) April 8, 2018
SRK mentioned in post match presentation that AbRam plays football & is also learning Taekwondo. He also wishes AbRam plays Hockey for India someday.

Truly Kabir Khan of Indian Cinema who genuinely cares about Indian sports & hockey in particular. pic.twitter.com/RlhVQsDt74

— SRK Universe (@SRKUniverse) April 9, 2018
Shah Rukh Khan with our Knight Rinku Kumar at Eden Gardens post the #KKRvRCB victory! 💜✨🙌🏻 • via - https://t.co/NKliCUxXEL#KKR #IPL2018 #KorboLorboJeetbo

• KKR HAI TAIYAAR • pic.twitter.com/yCFpQrce8s

— SRK Universe (@SRKUniverse) April 8, 2018
Shah Rukh Khan with Suhana Khan and Sanjay Kapoor at Eden Gardens for #KKRvRCB 💜✨🙌🏻 - via @AP_Images | #KKR #IPL2018 #KorboLorboJeetbo

• KKR HAI TAIYAAR • pic.twitter.com/MLi9rPxcKo

— SRK Universe (@SRKUniverse) April 8, 2018
SRK's heartfelt message for his fans
SRK was live on @KKRiders Facebook page earlier tonight post match & see what message he has for all the FANs.#KKRvRCB #IPL2018 #KorboLorboJeetbo

Via - https://t.co/MYhenMHG5q

• KKR HAI TAIYAAR • pic.twitter.com/IjVMgHcQqJ

— SRK Universe (@SRKUniverse) April 8, 2018
SRK mentioned in post match presentation that AbRam plays football & is also learning Taekwondo. He also wishes AbRam plays Hockey for India someday.

Truly Kabir Khan of Indian Cinema who genuinely cares about Indian sports & hockey in particular. pic.twitter.com/RlhVQsDt74

— SRK Universe (@SRKUniverse) April 9, 2018
Dinesh Karthik has replaced Gautam Gambhir as the captain of SRK's Kolkata Knight Riders. Welcoming the new captain, Shah Rukh Khan had posted a heartwarming message on Twitter, "As we stand poised for a new season of KKR we welcome @DineshKarthik as our Captain. Like our Captains over the yrs we know u will also lead us by boosting the self-esteem & dignity of all of us."
Also read: IPL 2018, KKR Vs RCB: Dinesh Karthik's Knight Riders defeated Virat Kohli's Royal Challengers by 4 wickets; read the full scoreboard here