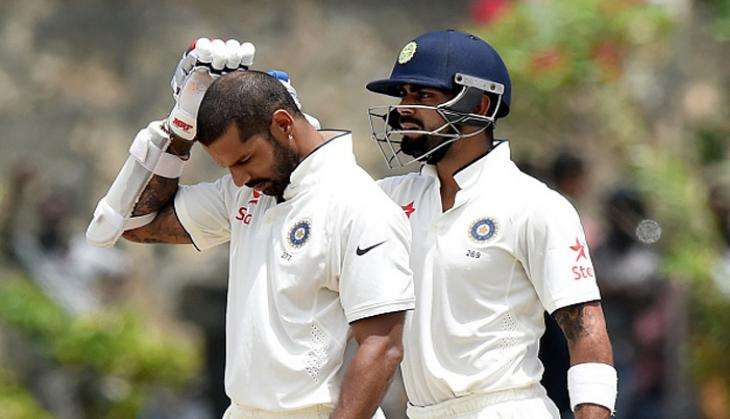 After a brief absence, Shikhar Dhawan finally returned to the Indian top-order when he was picked ahead of the veteran Gautam Gambhir for the second Test against New Zealand at the Eden Gardens in Kolkata on 30 September.
But, while his fans and the Indian team would have expected the southpaw to mark his presence in the match, Dhawan was dismissed way too early for his liking by Matt Henry. The left-hander went for a cut only to chop it back onto the stumps in the second over of the match.
Dhawan failed to live up to the expectations of the fans and Indian team management which further casts a shadow over his place in the side in near future. In his past 10 Test innings, Dhawan has scored a paltry 243 runs including just one fifty.
Minutes after his cheap dismissal, Dhawan was trending on the social media with multiple comments aimed at him. Though he still has another innings to redeem himself, the Twitterati didn't shy away from taking a dig at the Indian opener.
Here's a look at some of the tweets aimed at the Indian opener:
Kohli should have rather let Amit Mishra open with Murali Vijay today than Shikhar Dhawan 😂😂😂

— Abhishek 🇮🇳🏏 #408 (@ImAbhishek_) September 30, 2016
Shikhar Dhawan OUT For 1(10)

RT If You Feel Gautam Gambhir Should Be Given Chance Instead Of Bhumi Pujan Dhawan. #INDvNZ #INDvsNZ

— Sir Ravindra Jadeja (@SirJadejaaaa) September 30, 2016
Selecting Shikhar Dhawan in place of Gautam Gambhir is like selecting Bangla Desh for honeyMoon in place of Switzerland

— Sir Ashish Nehra (@Guru_A_Nehra) September 30, 2016
What does Shikhar Dhawan hv in common with Michael Jackson? They both wear gloves for no apparent reason. Seen on Twitter. LoL. :)

— Sumanth Raman (@sumanthraman) September 30, 2016
A biopic on Shikhar Dhawan will just be a montage of him wearing pads, going to the field and coming back immediately, played in a loop.

— Ushnota Paul (@journojuno) September 30, 2016
I dunno what the Kiwis are so happy about. Even Kenya doesn't celebrate on getting Shikhar Dhawan's wicket.

— Rastafarian Indian (@PatnaWaleBhaiya) September 30, 2016
Shikhar Dhawan got out early as he has to go and watch 'M.S. Dhoni The Untold Story' first day first show. #INDvNZ

— Mummbai Boy (@Stylebaaz) September 30, 2016
Shikhar Dhawan is like the Nimbu Mirchi for Indian team - He gets out early to ensure the rest can score freely and are not distracted

— Nikhil 🏏 (@CricCrazyNIKS) September 30, 2016