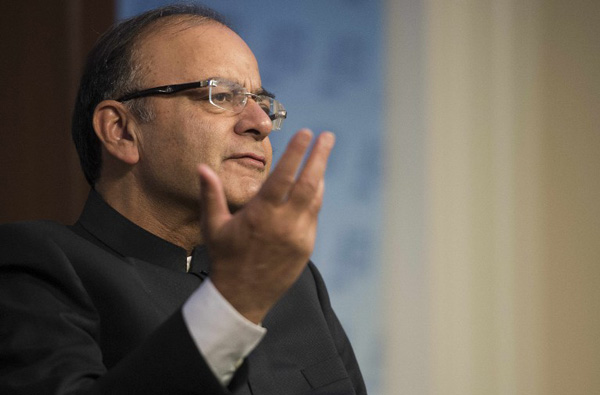 Just a day after the Union Budget 2016, a Change.org petition seeking immediate withdrawal of EPF Tax has gone viral on social media. It has received over 3,000 signatures so far.
The Budget seeks to impose a retirement tax on 60 per cent of contributions made after 1 April, 2016 to EPF. Micro-blogging site Twitter also picked up #RollBackEPF as one of the trending topics.
Users took to Twitter to express their views on the pro-rural budget. Take a look:
Perhaps this is why I detest socialism so much. The government thinking it has a right to people's hard earned money. #RollBackEPF

- Poshin David (@poshin_david) March 1, 2016
Hope PM @narendramodi understands the plight of salaried middle class & #RollBackEPF soon. https://t.co/tdIuJo0Rk4

- Devika (@Dayweekaa) March 1, 2016
@arunjaitley #RollBackEPF Tax on withdrawing PF is really insane must be taken back,Middle class is backbone of our Economy.

- Mayur Manekar (@MayurManekar) March 1, 2016
#RollBackEPF salaried middle class already contributes so much to economy.Please spare us when we retire @PMOIndia https://t.co/EzP1Nov2WF

- Anand Ganapathy (@AndyGana) March 1, 2016
#RollBackEPF... what about the option of selecting nps or epf as mentioned in last yr budget...FM said EPF has more prisoners than customers

- sreenath trivikram (@tweetfumes) March 1, 2016
#RollBackEPF By stealing Middle class Old Age money, the suit-Boot govt has shown its real face. Jaitley shd quit or b sacked

- Dev Chatterjee (@idevchatterjee) March 1, 2016
First we pay tax on salary than by means of VAT/Service tax on every purchase and now whatever savings we do is also taxable. #RollBackEPF

- Tanveer Ikram (@TanveerIkram) March 1, 2016
#RollBackEPF Employees shd hv an option instead of forcing them to put money in EPF without any returns.

- Saikiran (@kskk1968) March 1, 2016
Was advised to invest in PF account and save tax. Have been religiously doing so. Are you going to tax me retrospectively? #RollBackEPF

- Dr Rakesh Parikh (@drrakeshparikh) March 1, 2016
After every budget rich get richer, poor get poorer ,middle class gets middle finger!!!! #RollBackEPF

- Damodar J shenoy (@dj_shenoy) March 1, 2016
Meanwhile, the government has clarified that PPF will not be taxed on withdrawal. However, the interest accrued on contributions to EPF made after 1 April will fall under it.