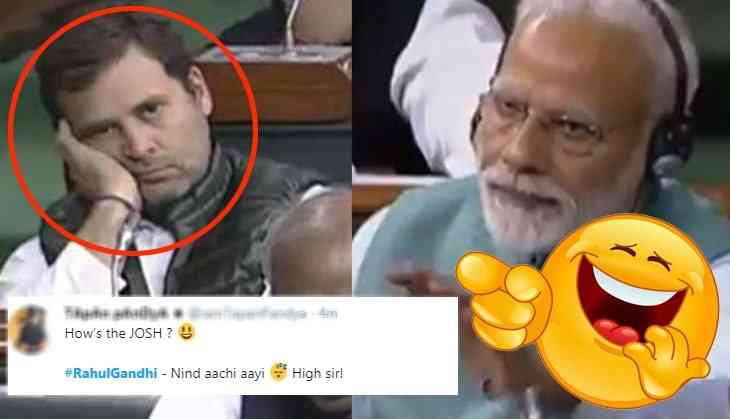 Finally, the budget has been presented by the Modi-led NDA government on 1st February by interim Finance Minister Piyush Goyal in Parliament. There were several announcements has been made by the government to woo the voters ahead of 2019 Lok Sabha election. But, the biggest announcement made by the government is on income tax.
Piyush Goyal announced that people whose annual income up to Rs 5 lakh will be tax-free for individual taxpayers. Also, Rs 1.50 lakh investment exemption allowed, now, an individual taxpayer can save on annual income of up to Rs 6.5 lakh. Also, the standard deduction has been raised from Rs 40,000 to Rs 50,000.
Also, Piyush Goyal thanked all taxpayers. On the other hand, this big announcement has brought josh in Parliament and the huge round of applause was heard in the Lok Sabha. Most of the MPs were thumping their benches. Even Prime Minister Narendra Modi was also seen smiling and thumping his bench.


Dear @RahulGandhi ji, how's is the josh 👇 pic.twitter.com/tdanXiZs6k

— BJP Karnataka (@BJP4Karnataka) February 1, 2019
The name of 'Modi, Modi' was enchanted in the Lower House as the Finance Minister announced the scheme for taxpayers.
On the other side, Congress President Rahul Gandhi was seen sitting with a blank face after the announcement on tax proposals.
As soon as his visual come to light, Twitterati started trolling him brutally.
Check out how Tweeple reactions:
The expression says it all! 108 Shri-Dumbass rahul gandhi is stunned, he can't even face the mirror 🤣🤣#Budget2019 #BudgetForBharat #BudgetForNewIndia #BudgetSession2019 https://t.co/mvQLuVaMnf

— Arijit Biswas (@ArejetBiswas) February 1, 2019
Rahul Gandhi surrenders himself and doesn't want to contest LS 2019 after #Budget2019 pic.twitter.com/GQZxihBxuR

— Farrago Abdullah (@abdullah_0mar) February 1, 2019
The high point is Rahul Gandhi's face! https://t.co/gP4GQVjGy2

— स्वामीये शरनम अय्यप्पा👩🏻‍🔧 (@visaradah) February 1, 2019
How PM Modi asked Rahul Gandhi..

Suji Hai, Suji... pic.twitter.com/92JS70A9yl

— Ashish (@ashishtikoo31) February 1, 2019
Rahul Gandhi To PM Modi Ji
😀😀😀😂😂#BudgetForNewIndia pic.twitter.com/4lfBIYU20T

— Reetesh Maheshwari🇮🇳 (@Reetesh777) February 1, 2019
Rahul Gandhi's face 😂😂😂 https://t.co/B834WFK83g

— Manas (@not_dat_guy) February 1, 2019
Also read: Budget 2019: Do you know the difference between vote-on-account and full Budget?