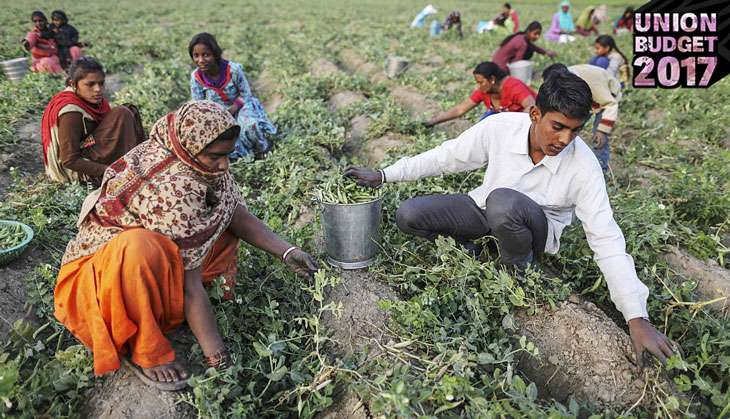 The increased allocation for the farm sector and for rural development in general in the Union Budget for 2017-18 is good, according to G Nanchariah, professor emeritus at the School of Economics, University of Hyderabad.
For the salaried class though he didn't find much in Finance Minister Arun Jaitley's speech except the lowering of the income-tax rate.
Those earning between Rs 2.5 lakh and Rs 5 lakh a year will be taxed at 5% from the next financial year, down from the current 10%.
"The government hopes to bring in a large number of people into the tax net through this measure," Nanchariah said. But he was not sure on how successful this would be.
"Unless income levels are increased, more people can't be brought into the tax net."
Jaitley stressed on the need to increase the contribution of direct taxes in his speech in Parliament.
Will there be growth?
India's economic growth is led mostly by the corporate sector and this Budget also has things for the sector to cheer for, Nanchariah noted.
However, he wasn't sure about how much the provisions for the corporates will help the economy grow in the current scenario, especially after demonetisation.
According to him, the effect of note-ban will continue for another year at least.
Prime Minister Narendra Modi announced on 8 November the withdrawal of currency notes of Rs 1,000 and Rs 500 denomination.
In this context, if the increased allocation in this Budget spurs growth in the agricultural sector, it will be good for the overall economy, Nancharia said.
The Budget has set a target of Rs 10 lakh crore to be lent out as farm credit in the next financial year. It also moots supporting Nabard and increase crop insurance, and doubles funds for long-term irrigation apart from starting a micro irrigation fund. A dairy development fund is also on the cards.
These apart, Jaitley has promised a slew of spending in rural areas, including increased funds for Mahatma Gandhi National Rural Employment Guarantee Act. He also stressed on building on rural infrastructure.
Nanchariah hopes that together these measures will help in mitigating the effects of demonetisation. While the measures for the farm sector should help the landed rural population, those with marginal or no land could benefit from the thrust on rural spending, he said.