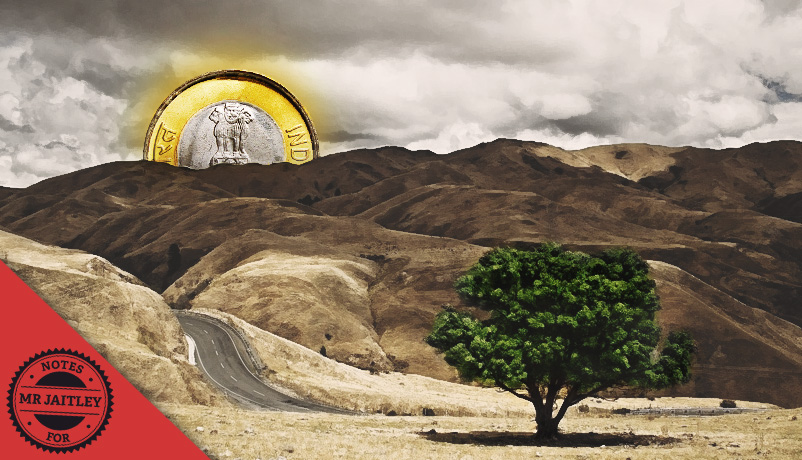 Dear Mr Jaitley,
In 2013, the World Bank estimated that India's ecosystem contributes up to 5.5% of the gross domestic product. The exact figure comes to about Rs 1.4 trillion.
This is a huge figure, especially since it still underestimates the countless ways in which nature is valuable to us.
Read- #NotesforMrJaitley 11: don't let down India's poor again
Yet, there isn't even one branch of the environment ministry that says it has enough funds. This includes Project Tiger, your and other governments' flagship wildlife conservation programme.
Your Prime Minister has often spoken about balancing environment with growth, but last year you cut the environment ministry's funding by 25%. Its budget for 2015-16 was Rs 1,681 crore.
That's 0.01% of your expected revenues for 2015-16.
Reliance Industries made about six times that amount as net profits from October to December 2015.
Not a single branch of the environment ministry can claim to have sufficient funds
The environment ministry is tasked with preserving the natural wealth of the country. On the one hand it has to preserve biodiversity, wetlands, wildlife. On the other, it has to control air, water, noise and industrial pollution and regulate coastal zones.
Project Tiger- now the National Tiger Conservation Authority was given 15% lesser funds than a year before. That's probably because the number of tigers have increased. But there are still several endangered species, whose preservation is suffering because of lack of adequate funding, such as the wild water buffalo and the great Indian bustard.
The Wildlife Crime Control Bureau, the apex body to reign in wildlife crime, has just about a hundred sanctioned posts because of funding constraints.
While your government's argument has been that with greater decentralisation, money would be given to states, the central ministry still has a lot of crucial jobs.
Also read- #NotesForMrJaitley 10: scale down your expectations from disinvestment
It accords three kinds of clearances -- environment, forests and wildlife. It is also supposed to monitor violations to these.
It also runs the Forest Survey of India, Botanical Survey of India and the Zoological Survey of India -- which are tasked with identifying and studying new plant and animal species.
They cannot function with lesser funds when their work hasn't reduced.
Last year you allocated Rs 350 crore for the National Adaptation Fund -- but, as even Mr Prakash Javadekar would tell you, this is nothing compared to what the country needs to adapt to climate change.
Only Mr Javadekar can tell you where the Rs 100 crore you allocated to the National Coastal Management Programme went.
Even the basic maps of coastal areas -- based on which management can take place -- haven't been completed and your government has passed the 31 January deadline it had set for itself.
The preservation of several endangered species continues to be neglected
The budget announcement comes less than three months after India made grand commitments to cutting greenhouse gases. In its climate plans submitted to the United Nations, the government has put forward an ambitious plan to expand renewable energy. It's expected to spend 2.5 trillion US dollars at 2015 prices until 2030.
That's about Rs 11 trillion each year on average. Yes, I understand that you plan to fund this largely through foreign contributions. But you do not have any fixed commitment for funding. Rich nations have escaped any direct monetary liability and have shied away from contributing to the Green Climate Fund.
Meanwhile, in the last budget you cut funding for domestic research in renewable energy. Your funding for the National Action Plan on Climate Change was lower by a whopping 80%.
Read more- Paper tiger: why India's chief wildlife crime fighter has lost its bite
Last year you were lauded for raising the cess on coal to Rs 200 per tonne. As we transition further to a green economy, you may want to consider increasing this. You could also raise revenue by taxing the sale of SUVs, as many environmental organisations have demanded.
To encourage clean energy vehicles, you gave Rs 75 crore to a scheme called FAME -- Faster Adoption and Manufacturing of Hybrid and Electric Vehicles. We are sure you will increase the funding for this -- the scheme requires Rs 795 crore over two financial years. But, the ministry of heavy industry has estimated that the scheme would require an outlay of Rs 14,000 crore.
The health effects of a polluted environment cost more than the actual reduction of carbon emissions
The list is actually endless.
But please see another report by the World Bank, which estimates that the cost of tackling the health effects from a polluted environment are about 3% of the GDP. It says that a 30% reduction in emissions can be achieved at a minimal cost to the GDP.
The effect of a 1-2 metre rise in sea levels would be worse, beyond monetary assessment.
It is easy to cut funds for the environment by citing fiscal issues. But the cost may be much bigger than you imagine.
Edited by Anna Verghese
More in Catch:
Cheryl Cecchetto hosts an epic Hollywood party, and you've never heard of her
Objectionable slogans and sedition are different things: Tewari on #JNUrow
BJP supporter behind sedition case against Rahul Gandhi & Arvind Kejriwal
Can't say if he'll win - but here's what DiCaprio will eat at the Oscars