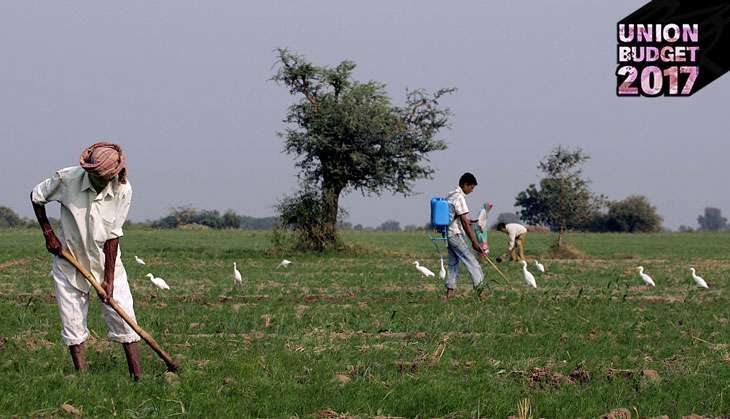 Finance Minister Arun Jaitley listed farmers at the top of his 10 priority themes for the Union Budget. However, farmers have been left scratching their heads about what exactly the Budget had for them.
Agriculture experts have given the budget a major thumbs-down, largely dismissing it as an exercise aimed at the maintenance of status quo in the farm sector. Some are even talking about some budget announcements, indicating a possible worsening of affairs in the sector.
Major announcements for agriculture and allied sectors
- Rs 1.87 lakh crore: The total allocation for rural, agriculture and allied sectors. Jaitley announced that it is 24% higher than last year's allocation.
- Rs 10 lakh crore: The new target for agricultural credit for financial year 2017-18.
- 60 days: The 'interest waiver' period for farmers announced before the budget, on 31 December 2016.
- 40%: The new coverage area under Fasal Bima Yojana scheme. It was 30% earlier. The government has also proposed to take it to 50% in 2018-19. Rs 9,000 crore has been allocated for this year.
- 648: The total number of Krishi Vigyan Kendras (KVKs) in the country which will soon get new mini labs for soil health testing.
- Rs 40,000 crore: The new corpus of the Long Term Irrigation Fund already set up in NABARD. This is a 100% hike.
- Rs 5,000 crore: The initial corpus of a Dedicated Micro Irrigation Fund in NABARD.
- 585: The total number of mandis (APMCs) to which the National Agricultural Market (e-NAM) will be expanded. It currently covers only 250. Assistance worth Rs 75 lakh to be provided to every e-NAM.
- Rs 2,000 crore: The size of a Dairy Processing and Infrastructure Development Fund to be set up in NABARD. This will be increased to Rs 8,000 crore over three years.
The big-ticket item
Jaitley made a big announcement, albeit subtly, the full impact of which will be visible only after it takes shape. He announced that the government will prepare a model law on contract farming, which will be circulated among the states for adoption.
This move has not been welcomed by agricultural experts. Well-known agricultural policy commentator Devinder Sharma said the government has begun the march towards corporate farming.
#Budget2017 Model law for corporate farming gives a clear message: Farmers should get out of agriculture paving way for corporate farming.

— Devinder Sharma (@Devinder_Sharma) February 1, 2017
Sharma also said the budget did not support the government's promise of doubling farmers' income in next five years.
Nothing tangible on the promise of doubling farmers income in next 5 years. #Budget2017

— Devinder Sharma (@Devinder_Sharma) February 1, 2017
Ajay Vir Jakhar, chairman of the Bharat Krishak Samaj, also expressed disappointment.
Could have slept through #Budget2017 section of farm sector & not missed anything. Had expected @arunjaitley to reform farm support delivery

— Ajay Vir Jakhar (@Ajayvirjakhar) February 1, 2017
GV Ramanjaneyulu, agriculture scientist with the Centre for Sustainable Agriculture, also said that there was nothing in the budget for farmers.
What's for farmers?
Am i missing something?

— Ramanjaneyulu (@RamanjaneyuluGV) February 1, 2017
Only thing I see for farmers us to sell/give off land and get excemption from capital gains and take shelter under MGNREGA #Budget2017

— Ramanjaneyulu (@RamanjaneyuluGV) February 1, 2017
Now farmers should try to double their income on their own ..full freedom no support #Budget2017

— Ramanjaneyulu (@RamanjaneyuluGV) February 1, 2017
He also summed up all of the NDA government's budgets so far, and said that none of them had shown any clarity towards achieving the goal of doubling farm incomes.
3 budgets over just one more left. Nothing planned for doubling farm Incomes?#Budget2017

— Ramanjaneyulu (@RamanjaneyuluGV) February 1, 2017