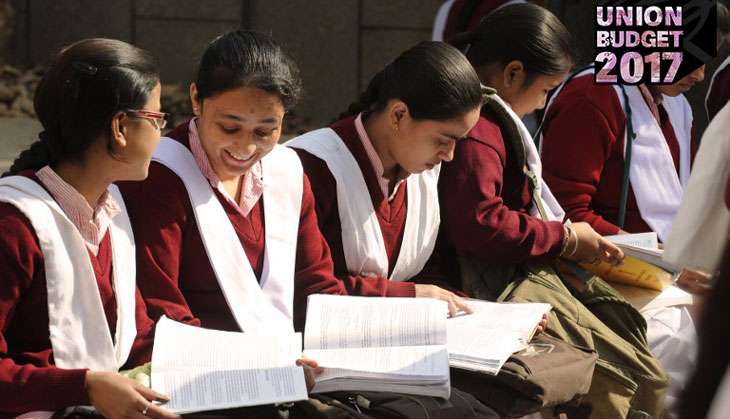 When it comes to education, Budget 2017 had little to offer - except for a few schemes that the HRD ministry had already been talking about for the past few months.
The focus remains on skill development, as the Modi government aims to ready an army of over 40 crore "skilled labourers" by 2022 under its flagship Skill India programme to cater to the global manufacturing market, which in turn is linked to the Make in India campaign.
Also Read: Opposition tears into Jaitley's Union Budget, Rahul says it has 'no vision'
Although Arun Jaitley emphasised "quality education", he seemed to have spared no thought for actually fixing the problems in the teaching-learning system in government schools, for one.
A proposed system of measuring annual learning outcomes in schools was all that the finance minister announced for school education, in keeping with the quantitative thrust of the government. Not a word about retention of students, vacant teaching positions, or any step to actually improve the quality of education. He said the emphasis will be on science education, besides "flexibility in curriculum to promote creativity through local innovative content" - what this actually means remains to be seen.
Jaitley also announced an Innovation Fund for Secondary Education to "encourage local innovation" that would ensure "universal access, gender parity and quality improvement", though again it is not clear how. This will include ICT-enabled learning, and will focus on 3,479 educationally backward blocks across the country.
As for higher education, Jaitley simply said reforms would be affected in the UGC and "good quality" institutions would be given "greater administrative and academic autonomy".
"Colleges will be identified based on accreditation and ranking, and given autonomous status. A revised framework will be put in place for outcome-based accreditation and credit-based programmes."
He also announced that a single, autonomous and "self-sustained" body would conduct all entrance examinations for higher education institutions, including JEE, NEET, NET, CTET.
Jaitley claimed "this would free CBSE, AICTE and other premier institutions from these administrative responsibilities so that they can focus more on academics."
Another announcement was about the launch of the HRD ministry's much-touted SWAYAM (Study Webs of Active Learning for Young Aspiring Minds) platform, which would host Massive Open Online Courses (MOOCs) on the lines of Coursera, etc. At least 350 online courses would be conducted, and students enrolled in higher education institutions would get academic credit for doing these courses. This seems to be the government's answer to the myriad issues in higher education, including the massive faculty crunch and serious quality concerns, never mind the questions of internet access and language for students across the country.
Also Read: Headline: 6 graphics that will tell you all you need to know about Budget 2017
The budget allocation was increased to Rs 79,686 crore from the revised allocation of Rs 73,599 in the 2016-17 fiscal. But as the economist Pinaki Chakraborty pointed out, this increase would not amount to much if one accounts for the increase in salaries as per the Seventh Pay Commission. As he pointed out, this nominal hike would include the salaries of government employees such as that of the KVs and central higher educational institutions.
As the economist Sudipto Mandal noted, the Modi government appears more focused on developing infrastructure than on developing social capacities and providing social services.
Crucially, Mandal said the total spending on social services -- education, health, water supply and sanitation, family welfare, housing development, labour -- was around Rs 1,08,500 crore, or around 5% of the total expenditure. In contrast, the total expenditure on transport sector was 9.9% of the total government expenditure.
As for skill development for the youth, Jaitley announced that the Pradhan Mantri Kaushal Kendras for vocational training will be extended to more than 600 districts, while 100 India International Skill Centres will be set up across the country. The latter would also offer foreign language courses and facilitate youth who want to work abroad.
He also announced the Skill Acquisition and Knowledge Awareness for Livelihood Promotion (SANKALP) programme, which will cost Rs 4,000 crore and provide "market-relevant" training to about 3.5 crore youngsters. Moreover, the next phase of the Skill Strengthening for Industrial Value Enhancement (STRIVE) will be launched in 2017-18 at a cost of Rs 2,200 crore.
More than half of India's population is under 25 years of age and over 65% is under 35. But even if this skilled labour army is created, where will the jobs for them come from, experts pointed out. Well, Jaitley did announce a scheme for creating employment in the leather and footwear industries, similar to what it had been doing for the textile sector.
Also Read: Budget 2017: Long on promises and politics, short on sound economics