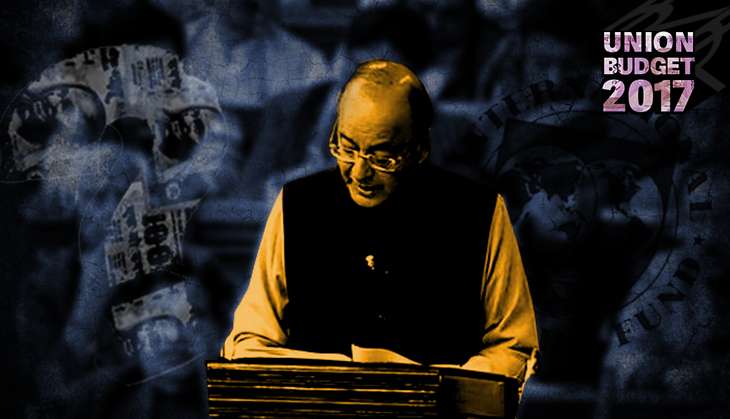 Arun Jaitley had a hard task producing a post-demonetisation budget in the shadow of critical Assembly elections important to the National Democratic Alliance (NDA). In that context, the finance minister had to put a positive spin on a widely criticised politico-economic policy. He thus lauded the note ban as a "bold and decisive measure". He also cited the International Monetary Fund (IMF) as judging India as "the fastest growing economy".
But that formulation was made before demonetisation. By citing the IMF on demonetisation, the FM is throwing himself over to a reiteration of sharp criticism by The Economist, Forbes magazine, The New York Times, The Times (London), and a large array of economists, including Lawrence Summers (Harvard), Kaushik Basu (Chief Economist, The World Bank), and Bengt Holstrom (Nobel laureate in Economics, 2016).
Also Read: Budget 2017: 13 key announcements by Finance Minister Arun Jaitley
The note ban was lauded by Jaitley for the "war against black money", fighting terrorism and eradicating corruption. The demonetisation, the FM insisted, had "strong support thanks to the people". Many pollsters would not agree while some observers, especially journalists, believe that the note ban is uniformly disliked.
No less important is the shift of the NDA economic discourse to a "digital economy" or "cashless" economy. In fact, the FM hailed the "huge" shift towards "digitalisation". This statement is yet to be validated. As is the budget claim that demonetisation would lead to long-term benefits, though it would have no impact in the next financial year. This statement is contradictory. If there are long-term benefits of the note ban, it should have a positive long-term economic impact.
A more serious problem is of the card machines, of which only a few lakh will be provided. That's certainly nowhere enough to encourage the use of card machines and credit/debit cards throughout a proposed digital economy. There are other hitches like the large number of non-24x7 electricity villages and urban clusters; mobile phones and other devices needed for cashless transactions require recharging. This problem hasn't been addressed either.
For the crucial Mahatma Gandhi National Rural Employment Guarantee Act (MGNREGA) programme for the rural poor, Rs 48,000 crore has been allocated. The FM has stated that this is the highest allocation so far. But the enduring problem in this programme, since the UPA 1, has been that monthly payments tend to come late. The rural poor have limited staying capacity. If their wages do not come in time, they leave in search of other work, and lose a month's wages. Unfortunately, the FM has not addressed this critical issue.
The NDA's line of shifting from an "informal" to "formal" economy is an even more disastrous policy. The informal sector, which is cash intensive, is a great employment generating sector. Craftsmen like carpenters, shoemakers, welders are all part of the informal economy. No matter what the FM thinks, no one can transport a sector of the 21st century to the 22nd century. This is neither possible nor positive.
This is also reflected in doing away with the separation of Plan and non-Plan budgetary expenditures and outlays. The idea of planning is to systematically plan for socio-economic dovetailing of economic policies avoiding impromptu decision-making. But the NDA doesn't believe in planning. It is even giving up broad indicative controls.
Also Read: Reading the Economic Survey 2016-17: Academic detachment does not help matters
The FM announced that the Foreign Investment Promotion Board, which was set up as early as 1991, would be abolished. Now, there will be no guidelines for the promotion of foreign investment. Corporates will make their own investment decisions. This is not smart economics. Some broad guidelines are useful to ensure that the latest technology is imported, that repetitive imports are avoided, etc. The FM is throwing the baby out with the bathwater. An economy as vast as India's needs to have at least some indicative planning. In this area, rhetoric can not replace reason.
There are lots of targets. For rural electrification, Rs 19,000 crore is allotted. It is intended that by 2018 there will be 100 per cent rural electrification. That is a difficult call. No detailed survey has been cited for the power sources that will energise such a wide network of electrical grids. Even today, large urban areas don't get 24x7 electricity. This problem is even more acute in rural areas. A law is to be passed to privatise airport lands. But the long-term value of this valuable land would be much more than a one-time sale.
For the poor, the FM has earmarked a very large sum of Rs 98 lakh crore. But a detailed break-up, which presumably the finance and other ministries will prepare, needs examination. This is important since agriculture has grown by a slow 4.8% in this last financial year. Hopefully, the Niti Aayog and other bodies will, in collaboration with Nabard, work out initiatives to meet the rural and agricultural objectives.
Some things are quite unnecessary. The budget earmarks funds for two new AIIMS in two states; the one in Jharkhand is a boon, but unfortunately the other is kept for Gujarat. Unlike Jharkhand, Gujarat is a prosperous state. It would have been better to locate the second AIIMS in another poor state. But the PM perhaps decided to give his state even better medical benefits. This is not the first time something like this has happened.
In summation, this is a political budget, in keeping with the timing of the budget session. It is full of promises and presumptions. A digital economy is nowhere on the horizon. And the after-effects of demonetisation are far from over. But given the politics and economics of the NDA, Jaitley really did not have a clean slate to write on, or too many options in policy.
Also Read: Budget 2017: Cash donations to political parties capped at Rs 2,000