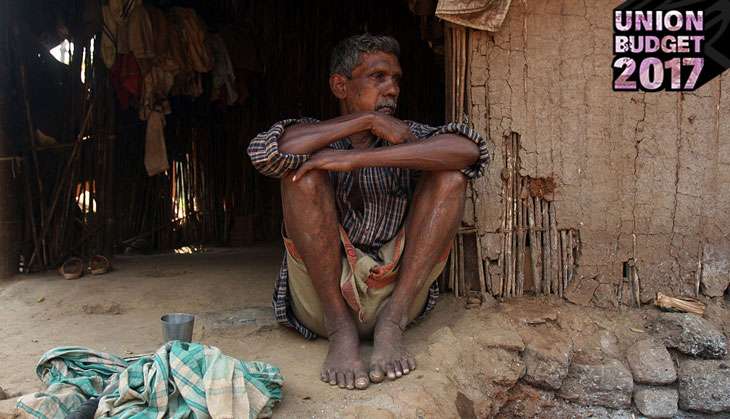 Finance minister Arun Jaitley may have boasted about a 35% hike in this year's budgetary allocation for the welfare of Scheduled Castes and 30% for Scheduled Tribes, but an analysis done by the National Campaign on Dalit Human Rights (NCDHR) claims that the BJP government played a "fraud".
Experts pointed out that the apparent increase in the allocation was because of the Plan/Non-Plan merger, under which general items had been budgeted under SC/ST schemes and funds were merely shifted from one head to the other.
Jaitley increased allocation for SC welfare from Rs 38,833 crore in 2016-17 to Rs 52,393 crore this year, and for ST welfare from Rs 24,005 crore to Rs 31,295 crore.
Also Read: Opposition tears into Jaitley's Union Budget, Rahul says it has 'no vision'
But while allocation has increased, it is not really targeting the SC and ST communities, as it includes general schemes such as pensions and salary hikes for college teachers.
In fact, funding for 51% of the total schemes for SCs/STs has been merged with/directed into general schemes, said N Paul Divakar of the NCDHR.
Importantly, this budget marks a "paradigm shift" in policy focus from the earmarked SC/ST sub-plans to a "welfarist" approach.
The Scheduled Castes Sub Plan (SCSP) and the Tribal Sub Plan (TSP) components of the budget have been replaced by 'Allocations for welfare of Scheduled Castes' (under Statement 10A) and 'Allocations for welfare of Scheduled Tribes' (under Statement 10B), respectively.
The move comes "despite the suggestions of the Chief Minister's Committee to bring the Centrally sponsored 'Umbrella Schemes for Development of Scheduled Castes' and 'Umbrella Schemes for Development of Scheduled Tribes' as Core to Core schemes which are to be prioritised and legislatively sanctioned," the NCDHR said in a statement.
Under the SC/ST sub-plans, started in the late 1970s, ministries and departments have to spend an earmarked amount on the welfare of Dalits and Adivasis in proportion to their population, which currently stands at 16.6% and 8.6%, respectively.
The NCDHR said the trend of under-allocation has continued in this budget as actual allocation for SCs is only 2.5% of the total budgetary expenditure and only 1.53% for STs.
This is not even half the amount mandated by the Jadhav guidelines, which should be a minimum of 4.63% of the total budgetary allocation for SCs and 2.39% for STs.
"In the merged scenario of Plan and Non-Plan, estimates following the Jadhav guidelines mandate allocating a minimum of 4.63% under the SCSP and 2.39% under the TSP of the total budgetary allocation," NCDHR said.
In fact, schemes for Dalits have been reduced from 294 to 256 while the number of schemes for Adivasis has been cut to 261 from 307 in 2016-17. Only 11 new schemes for SCs and eight new schemes for STs have been introduced this year.
Also Read: 6 graphics that will tell you all you need to know about Budget 2017
Crucial schemes for SCs/STs have either been scrapped or their funding has been reduced. For example, the Rehabilitation of Bonded Labourer scheme has been scrapped while the Rehabilitation of Manual Scavengers scheme had seen drastic cut in allocation this year. The National Scheduled Castes Finance and Development Corporation has also seen a major cut in funding this time.
As for higher education, Abhay Xaxa, a scholar of Adivasi Rights, pointed out that the post-matric scholarships (PMS) for SC and ST students haven't been released to the beneficiaries. More than Rs 8,000 crore is outstanding for SC students while over Rs 2,500 crore is outstanding for ST students - and this had not been accounted for in the budget.
"The second and third installments of PMS remain due. A large number of students have had to drop out because of this," said Xaxa.
The NCDHR demanded the release of the backlog of Rs 12,000 crore under PMS.
Xaxa also pointed out that while two central tribal universities have been announced in Telangana and Andhra Pradesh, a ridiculously low allocation of Rs 1 crore is budgeted for them.
Last year, the budget had separately allocated Rs 500 crore each for SCs and STs under the Start-Up India programme but only Rs 500 crore overall has been spent so far.
Prof Vimal Thorat of the NCDHR pointed out that Dalit and Adivasi women remain the most ignored section of the population, as the hike in allocation for Dalit women was 1.19% while for tribal women it was 1.68% under the SC/ST welfare schemes.
The forum demanded that the "denied and misallocated" amount totaling Rs 71,139 crore for SCs and Rs 34,349 crore for STs "need to be replaced with real targeted schemes".
They also demanded the SCSP and the TSP be legislated centrally to ensure "accountability, participation and transparency".
Also Read: Budget 2017: Long on promises and politics, short on sound economics