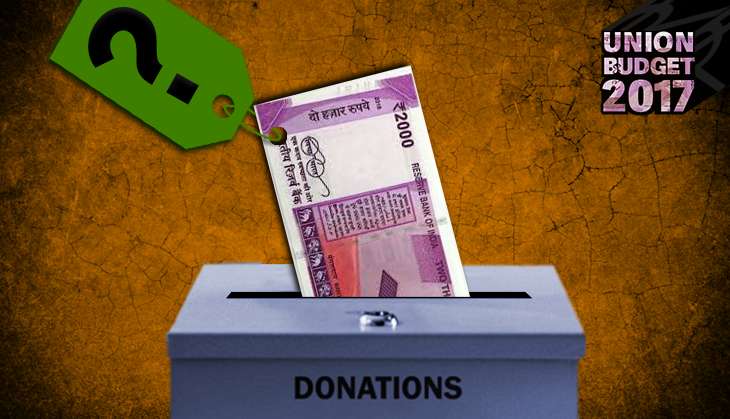 Following the recommendations of Election Commission of India, Union Finance Minister Arun Jaitley, in his 2017-18 budget speech, capped cash donations to political parties from one source at Rs 2,000. The move is aimed at bringing transparency in political funding considering most political parties have opposed sharing details of their donations.
Before the finance minister made the announcement, political parties were not required to reveal names of individuals and organisations donating less than Rs 20,000. A recent study conducted by Association for Democratic Reforms (ADR) highlighted how two-thirds of donations received by national and regional political parties between 2004-05 to 2014-15 came from unknown sources.
Moreover, the finance minister also proposed changes in the RBI Act to introduce electoral bonds which can be purchased from banks and can be deposited in the accounts of political parties. "Parties would be allowed to receive donations through cheque or digital mode," Jaitley said.
Meanwhile, political parties have welcomed the decision and claim that such a move would bring in transparency in political funding. BJP president Amit Shah was first to welcome the decision and said, "I also welcome the historical step to bring transparency and cleanliness in political funding by restricting the cash donation to Rs 2000."
Even Congress vice president Rahul Gandhi supported the announcement and tweeted, "Any step to clean political funding will be supported by us." KC Tyagi, while welcoming the decision of the government, said that the EC and government should convene the meeting of all political parties to ensure that no one is allowed to misuse it.
"We support the Election Commission's recommendations and demand that an all party be convened to clarify the new provisions," said Tyagi. Former Election Commissioner SY Quraishi while welcoming the decision said that political parties would still find ways to exploit the Rs 2000 cash limit.
"It was the EC that made this recommendation which was backed by Prime Minister Narendra Modi. Any reform is better than no reform but the government should have made political funding cashless as it is trying to do with small vendors. In such a scenario, political parties would still find ways to exploit the new cap announced by the government," said Quraishi.
Earlier in an interview with Catch, ADR's Jagdeep Chokhar too said that it would have been better if EC would have recommended no cash donations to political parties to avoid any malpractices. On EC's suggestion, Chokhar said, "This is a good suggestion but it would have been better if the EC had recommended zero instead of Rs 2,000. It would help bring down the use of black money to a certain extent."
On 24 January, ADR released a study which claimed that of the Rs 11,367.34 crore received by political parties, Rs 7,832.98 crore was accumulated from unidentified sources. From the details of donors available through the contribution reports submitted by parties to the EC, the analysis revealed that the total income of national and regional parties in these 11 years stood at Rs 11,367.34 crore, of which only a mere Rs 1,835.63 crore (16%) came from known sources.
According to data collected from Income Tax returns by ADR, between 2004-05 to 2014-15, 83% (Rs 3,323.39 crore) of the total income of Congress came from unknown sources, as did 65% (Rs 2,125.91 crore) of the BJP's total income.