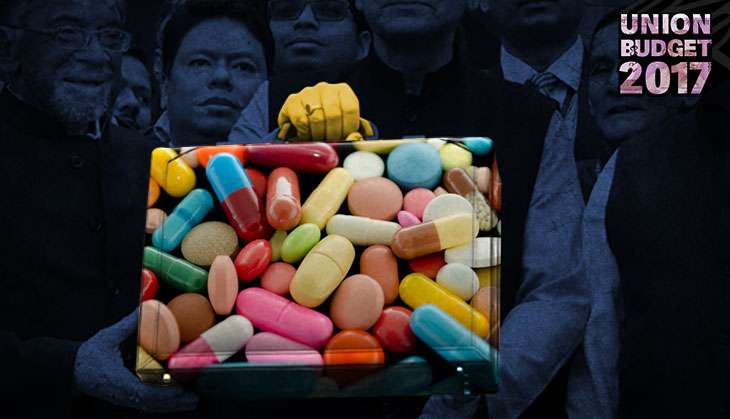 Underlining the need for more generic drugs in the market, Arun Jaitley announced an amendment to the Drugs and Cosmetics Act in his budget speech.
"We propose to amend the Drugs and Cosmetic Rules to ensure availability of drugs at reasonable prices, to ensure use of generic medicines," he said. "New rules regarding medical devices will be formulated. These rules will be internationally harmonised and attract investments into this sector. This will reduce the cost of such devices."
This triggered an immediate reaction from both the pharma companies and the stock market. Shares of Big Pharma companies like Aurobindo Pharma, Sun Pharma, Cipla and Glenmark took a beating, with shares of Aurobindo slipping over 2%.
Also Read: Budget 2017 is focused on where the votes are. Here's how
India is emerging as one of the world's pharma manufacturing hubs. A report by TechSci Research expects India to be among the top three pharmaceutical manufacturing countries, with a turnover of $55 billion by 2020. This report was hailed by many pharma companies.
Jaitley spoke little about reform in the pharma sector but his promise to increase the availability and accessibility of generics is positive news for poor patients.
The pharma sector is also unhappy with the lowering of tax on medium and small scale enterprises, something that is likely to give a fillip to the domestic pharma sector.
Kanchana TK, Director General of the Organisation of Pharmaceutical Producers of India, which represent multinational drug makers, said it was unclear whether the allocations in this year's budget would adequately address India's healthcare challenges. He had hoped for some regulatory reform in the pharma sector, such as incentives for patents, exemption of certain duties and taxes.
"The finance minister has laid down a very safe budget, staying within his comfort zone. But it could have been bolder," said Kiran Mazumdar-Shaw, chairperson of Biocon.
India remains the largest provider of generic drugs to the world, accounting for over 20% of the market.
Health experts, meanwhile, are happy with the hike in the allocation for the sector and the promise to set up two new AIIMS and increase post-graduate medical seats.
"We hope with the hike there will be more investment in health research, which was cut down in the last budget, especially on tackling tuberculosis. ICMR had established a research consortium for TB and hopefully such consortia will be funded. The 2025 target of eliminating TB is very ambitious. We need more domestic funding for tackling the disease," said Shailly Gupta of the Médecins Sans Frontières.
Also Read: Budget 2017: For defence, marginal hike in funds & a few minor schemes