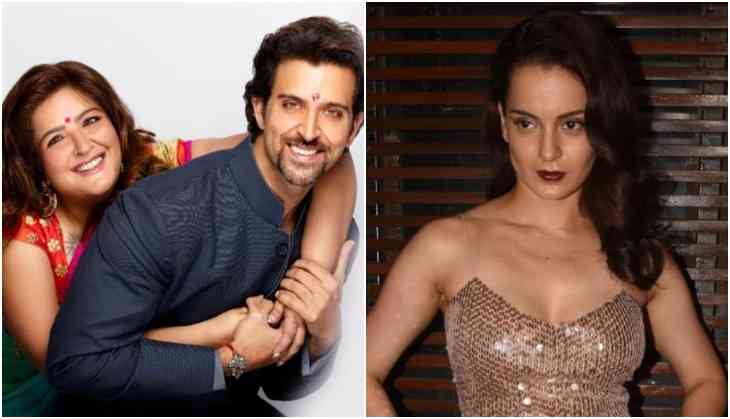 Three years have gone since Hrithik Roshan and Kangana Ranaut's controversy started creating buzz and they openly came out in public speaking a lot about their alleged affair. The war of Hrithik-Kangana has made a lot of controversy in recent past but Hrithik has always been mum about the whole incident. While on the other hand, Kangana Ranaut and her sister Rangoli Chandel have always taken Hrithik on target.
In fact, Hrithik Roshan after getting frustrated of this trauma pushed the release date of his next film Super 30 which was supposed to clash with Kangana Ranaut starrer Mental Hai Kya. Recently, Kangana's sister Rangoli Chandel tweeted and claimed that Sunaina has called them and apologise with regard to the ugly fight between Hrithik and Kangana. Rangoli's claim made a huge buzz and what now finally Sunaina has responded to it.
Sunaina Roshan in her latest tweet said, "I support Kangana all through". Kangana also in one recent interview, said that she and Hrithik's sister Sunaina have also been in touch and they were good friends.
I support Kangana all through

— Sunaina Roshan (@sunainaRoshan22) June 18, 2019
The actress also said, "It is true that Sunaina and I were always good friends and so was her family. Now they claim differently. Yes, she has been in touch with me, but I don't want to take advantage of her family dispute. Sunaina is still a friend but I will not hit somebody when they are down."
And living in hell continues ....gosh I'm tired

— Sunaina Roshan (@sunainaRoshan22) June 18, 2019
A few days back speculations started when reports suggested that Sunaina was suffering from bipolar disorder. However, Sunaina denied all the allegations and now on Early morning Tuesday, she had tweeted, "And living in hell continues ....gosh I'm tired."
Also Read - Ranveer Singh consoles Pakistani fan after India beat Pakistan in World Cup match: video inside