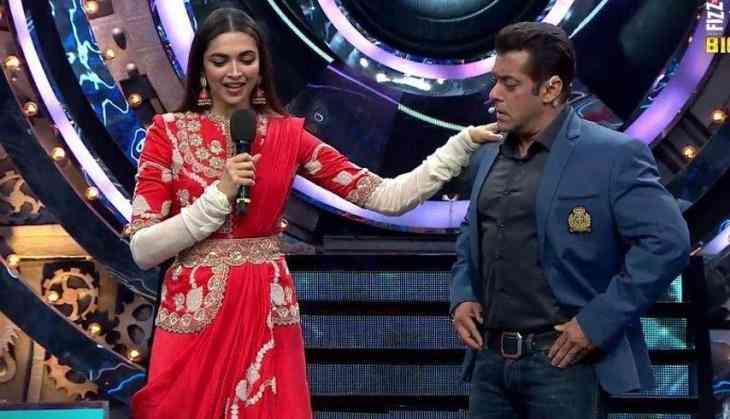 Bigg Boss 11: Not to promote Padmavati, Deepika Padukone came to Salman Khan's show for this reason
This Weekend Ka War episode became very special when Deepika Padukone came to Salman Khan's show Bigg Boss 11. Many though Deepika Padukone came to show to promote her upcoming movie Padmavati, now it has been revealed that despite knowing that the film has been postponed why she came too early to promote the film.
If you would have seen the whole episode and Deepika Padukone's portion then you will notice that Salman Khan and Deepika Padukone were mainly concentrating to clear the bad air about the film. The superstar and Deepika Padukone were continuously saying that there is no scene in between Ranveer and Deepika in the film Padmavati.
Now one source has told that this was just only because of the controversy and other bad things. The makers of the film planned to clear the air through national television and what will be a good platform than Salman Khan's most popular show Bigg Boss 11.
They mainly didn't reveal the release date of the film, but they were just clearing controversy about the film. This is to notice that earlier also filmmaker Sanjay Leela Bhansali has released a video in which he was clearly saying that the film will have any single scene between queen Padmavati and Alauddin Khilji.
Also Read - Varun Dhawan replaces Salman Khan in Remo D'souza dance film and it's not ABCD 3
Official Media Statement on @FilmPadmavati. pic.twitter.com/dlq9TIpDow

— Viacom18 (@viacom18) November 19, 2017
Also Read - Padmavati row: Here is what Shahid Kapoor has to about the film release
This is to notice that finally, Viacom 18 studio has announced that they have postponed the release date of the film and now the new release date is not clear yet.