Bollywood actor, Boman Irani may only have 16 years of Bollywood acting experience in his kitty, but his versatility has helped him cement his place as one of the industry's most sought after actors today. The actor, who was last seen in Dilwale, told Catch that he believes Bollywood script writers are not given the importance they deserve - an unfair practice that leads to a lack of interesting scripts. 
As Boman Irani gears up for the release of Santa Banta Pvt Ltd, the actor shared his thoughts about the stereotypes on the big screen, animated films in Bollywood, mourned the lack of good comedies and spoke of the evolution of Hindi Cinema.
Read excerpts from the interview below:
On having signed on for Santa Banta Pvt Ltd:
I was a little skeptical before signing the film because of the name Santa Banta Pvt Ltd. So I asked the director to explain the plot. This is an interesting investigative thriller and is a very important journey comprising the two characters in the film. This also establishes the bond between Santa and Banta. 
Also read: #CatchChitChat: Most film reviewers don't understand editing, says National Award winning editor Namrata Rao
More than the gags, there are many sub-plots in the film which made me sign the film. The casting is also very interesting as Vir Das and I belong to different generations. In my opinion this is perfect example of miscasting since we are not similar in any manner.
On Bollywood's portrayal of Sikh characters:
There have been Sikh characters in so many Bollywood films. I don't think they are often stereotyped. I played a Sikh in Lage Raho Munnabhai as well and I don't think it had a comic touch. Having said that, sometimes we do tend to stereotype characters in Bollywood and it happens in terms of all communities, be it a South Indian character or a Parsi character. I think times are changing now.
On the scope of comedies in Bollywood:
The comedy genre does not get its due. Not just in India but across the globe. Take a look at Hollywood, there have only been one or two comic actors who went on to win an Academy Award. But serious roles always win awards, don't they? 
Also read: #CatchChitChat: Amyra Dastur may be working with Jackie Chan in Kung Fu Yoga, but she has no idea how to handle being famous
But to be frank, this does not matter. For me, the real reason to act in films is to entertain the audiences. What will we do with so many awards? Yes, I do agree that people don't take comedy films seriously, which is fair enough, but I am very happy when people enjoy any film. Rather than getting an award, my idea is to make a film which brings some joy to people's life. 
It does not matter if it is a comedy film or a film like Neerja. The film makes you cry, but it is uplifting. For me at the end of the film, I felt uplifted and I learnt to take life positively. I don't think any film that we make would glorify a negative character.
Has Bollywood evolved in the last decade?
There will always be a change of audience tastes. Evolution will take place in every genre when a new generation of film makers step in. There will be a new voice, new method of telling a story, new method of editing a story, new method of using cinema as a different tool. New directors, new textures, new styles of speaking, new dialogue delivery styles, you name it. I think the comedy genre has definitely evolved over last 15 years. 
What areas can Bollywood improve upon?
I think Bollywood can do better in terms of all genres. I think we should improve on our scripts. I feel we should give much more importance to script writers, or rather hire them on a commission basis to write a script. 
Here, they work on a script for one-and-a-half year and then go to knock the doors of different production houses and no one accepts it. We need to respect the script writers more. The day Indian writers get their due, everything will change for good. Everybody contributes to a film but the stars get maximum credit and the script writers get hardly any appreciation.
Also read: #CatchChitChat: Grateful to Mohanlal for Janatha Garage, says Unni Mukundan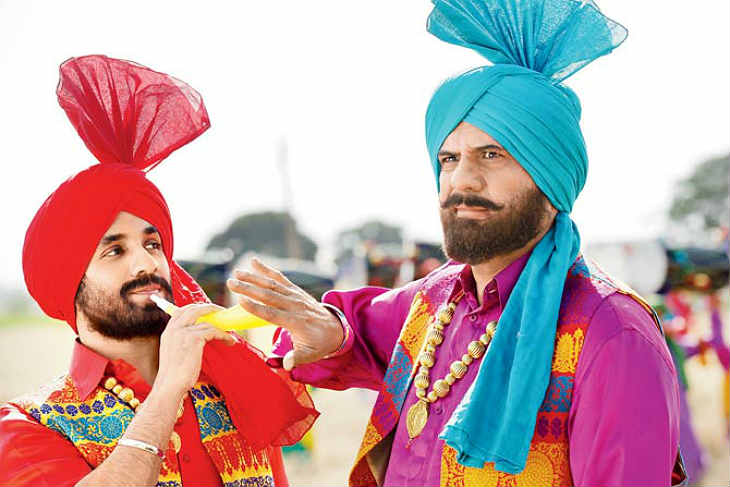 Photo: a film still
Long way to go for animated films in India
I think films like Inside Out, Wall-E and Up are concept driven films. In Hollywood, the makers work on the script for over two years. I think it is just the imagination that works and not the animation. Animation is just the padding. It is the concept and presentation that does the magic. In India, we are still in the nascent stage of animation. 
Many Indians work on international animated films so it has been proven that we are capable of producing good films. But weak scripts lead to the failure of animated films in India. For an animated film, you need the best and the most unusual screenplay.
Also read: #CatchChitChat: Anupam Kher, Paresh Rawal or Javed Akhtar could be made FTII chairman, says Dibakar Banerjee