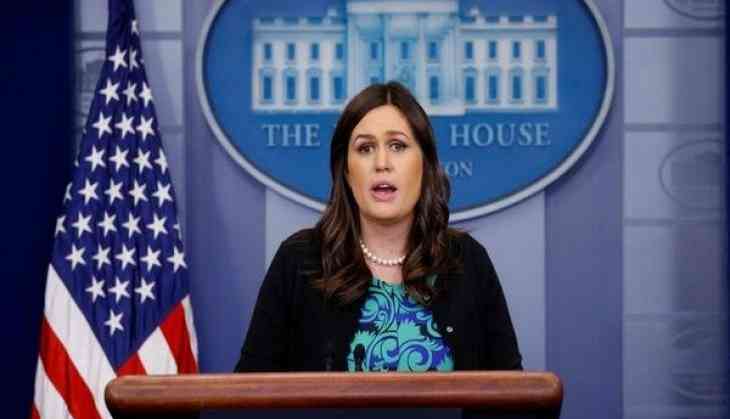 Maintaining silence, the White House has refused to answer if United States President Donald Trump had know-how of a USD 130,000 payment made to porn star Stormy Daniels by his personal lawyer, Michael Cohen.
When, White House press secretary Sarah Sanders was tossed a question on if Trump was aware of the payment, she responded, "Look, the President has denied the allegations. We've spoken about this issue extensively and I don't have anything else to beyond that. Anything beyond that I would refer you to the outside counsel," CNN reported.
The White House has claimed that the President has addressed the controversy surrounding Daniels.
According to the report, Cohen in October 2016, released a statement to CNN on behalf of Trump, which read, "President Trump once again vehemently denies any such occurrence as has Ms. Daniels."
Simultaneously, Cohen signed a statement from Daniels as well stating that the allegations of an affair were "absolutely false".
Cohen has said that he used "own personal funds to facilitate a payment of USD 130,000" to Daniels for her silence on the matter, weeks before the 2016 presidential election.
On that note, Daniels has been locked in a legal battle with President Trump earlier this month, seeking to invalidate a nondisclosure agreement she and Cohen had signed more than a decade ago.
The adult star said that the deal is not valid because the US President "never signed it himself".
Daniels on Monday accused Cohen for defamation amending her lawsuit against the US President.
According to the lawsuit, it now claims that Cohen defamed Daniels by suggesting that she is lying about her alleged 2006 affair with Trump.
The suit specifically points to a statement Cohen made last month, "Just because something isn't true doesn't mean that it can't cause you harm or damage," he said.
--ANI
Also Read: Karlmann King is world's most expensive SUV; video inside