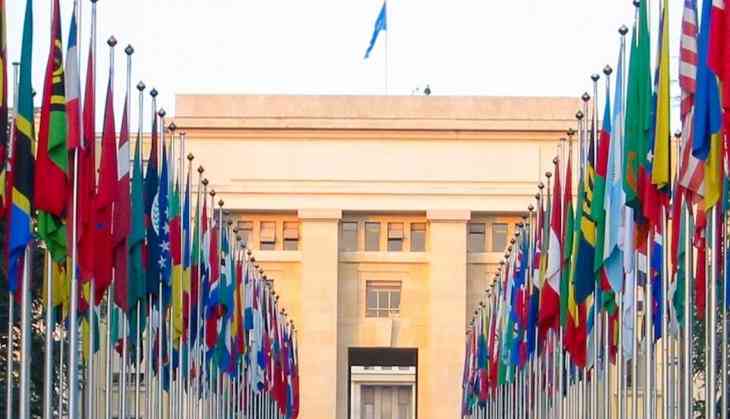 The United States today accused Russia of disdaining the international order and disrespecting the territorial integrity of sovereign nations.
State Department Spokesperson Heather Nauert's remarks came hours after Russian President Vladimir Putin's campaigned in Crimea, which the US alleges was annexed by Russia some four years ago.
In his election rally in Crimea, home to about two million people, Putin reportedly said that there was still a lot of work to do and that his government was working on various long-term projects.
Also Read: World Bank projects India's 2019 GDP growth at 7.3 percent
"In his campaign rally in Crimea today, President Putin reiterated Russia's false claims to Ukrainian territory in another open admission that the Russian government disdains the international order and disrespects the territorial integrity of sovereign nations," Nauert said.
"Four years ago this week, Russia held an illegitimate, fabricated "referendum" in Ukraine in a futile attempt to legitimize its purported annexation of Ukrainian territory," she alleged.
Nauert alleged that the residents of Crimea were made to vote under duress during 2014's Crimean status referendum.
Russia claimed Crimea on March 18, 2014.
Also Read: Angela Merkel re-elected to German Parliament for the fourth term
"Crimean residents were compelled to vote under scrutiny by heavily armed Russian troops. Russia's claim that Ukrainians made a free choice in that sham "referendum" has always lacked credibility," Nauert said.
Nauert said Russia has engaged in a campaign of coercion and violence over the past four years, "targeting anyone opposed to its attempted annexation".
"In light of Putin's remarks, it is important to call attention to the illegitimacy of the staged "referendum," but also to the tremendous human costs the Russian government has imposed on the people of Crimea," Nauert said.
"Russian occupation authorities have subjected Crimean Tatars, ethnic Ukrainians, pro-Ukrainian activists, civil society members, and independent journalists to politically motivated prosecution and ongoing repression, while methodically suppressing nongovernmental organisations and independent media outlets," Nauert said.
Also Read: Trump visits California first time as President
The State Department spokesperson applauded people who speak out against the situation in Crimea.
"We stand behind those courageous individuals who continue to speak out about these abuses and we call on Russia to cease its attempts to quell fundamental freedoms of expression, peaceful assembly and association, and religion or belief," she said.
Nauert said the US will continue its Crimea-related sanctions until Russia returns control of the peninsula to Ukraine.
"We reaffirm our commitment to Ukraine's sovereignty and territorial integrity within its internationally recognized borders. Crimea is part of Ukraine," she said.
--PTI
Also Read: Saudi Arabia plans to issue tourist visas in April