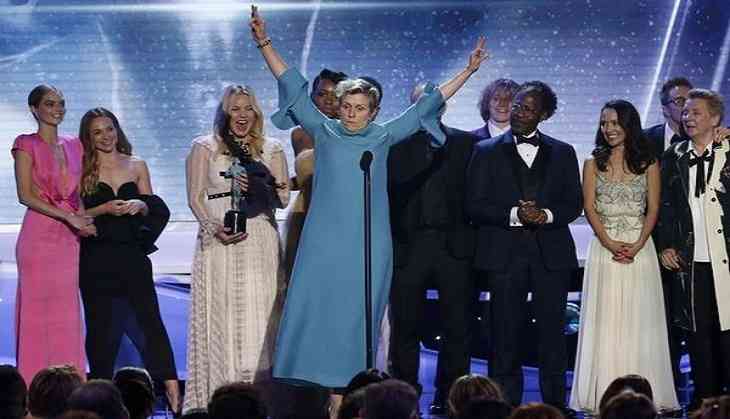 'Three Billboards Outside Ebbing, Missouri' was a big winner at the 24th annual Screen Actors Guild Awards as the movie took home three trophies, including best performance by a cast in a motion picture.
While accepting the award, the film's lead actress Frances McDormand kept her speech short and straight to the point, referring to the cast as "the kids of Ebbing, Missouri", before thanking everyone involved in bringing this beautiful film to the big screen.
The film beat out 'The Big Sick', 'Get Out', 'Lady Bird' and 'Mudbound' for the honour.
The movie also won awards in the individual acting categories. McDormand won the Best Actress title, while Sam Rockwell won the Best Supporting Actor for their roles in the film.
Rockwell, who beat out his co-star Woody Harrelson for the award, took his moment on stage to give a shout-out to McDormand.
"Frances, you're a powerhouse. I stand shoulder to shoulder with you and all the incredible women in this room who are trying to make things better. It's long overdue", noted Rockwell.
Meanwhile, McDormand began her speech by saying, "Golly gee whiz. I have a couple things to say". She also touched the issue of the importance of "representation" in the entertainment industry.
The actress shared, "We, those tireless men and women who represent us truly, our desires, our dreams, our individual strengths and our ethical beliefs, to them, we owe a great deal. To mine, Frank, Brian, Simon: Full credit, gentlemen, full credit".
The actress beat a trio of serious Oscar contenders in Sally Hawkins ('The Shape of Water'), Margot Robbie ('I, Tonya'), and Saoirse Ronan ('Lady Bird'), as well as two-time SAG Award winner Judi Dench ('Victoria & Abdul').
-ANI