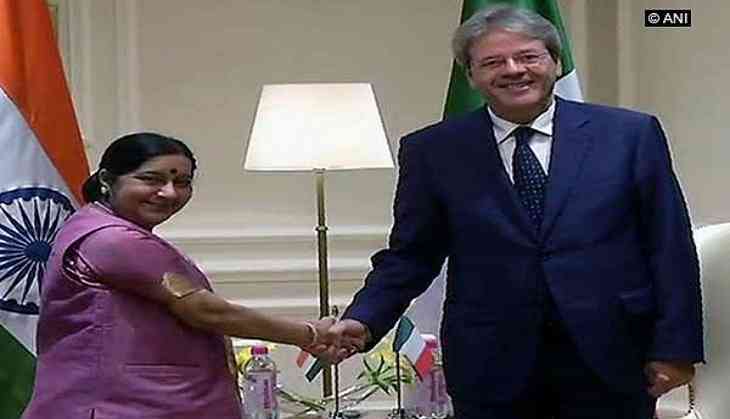 India's External Affairs Minister Sushma Swaraj called on Italy's Prime Minister Paolo Gentiloni on 30 October and discussed issues of mutual intrest.
Prime Minister Gentiloni, who arrived in New Delhi on Sunday on a two-day visit, will hold delegation-level talks with his Indian counterpart Narendra Modi later in the day.
After receiving a ceremonial reception at the Indian presidential palace, Rashtrapati Bhavan, Prime Minister Gentiloni said that both the nations have strong economic relations, common interest and are fighting against terrorism.
"We have strong economic relations and it's a great opportunity to make it stronger. We have common interests in global arena. The reform programme going on in India, is great opportunity for Italian businesses community. We have good investments from Indian companies in Italy," the Italian Prime Minister said while speaking to the media here.
The Italian Prime Minister, accompanied by his wife Emanuela Gentiloni, also paid tribute to Mahatma Gandhi, Father of the Nation, at Rajghat.
The visiting dignitary will also call on Indian President Ram Nath Kovind and Vice President M Venkaiah Naidu.
Besides official meetings, he will also interact with Indian and Italian Chief Executive Officers (CEOs) and will deliver a lecture at an event, organised by Observers Research Foundation (ORF), a Delhi-based think tank.
-ANI