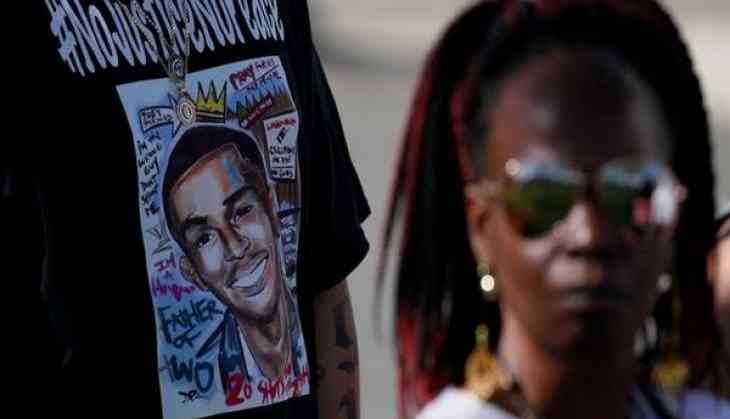 Stephon Clark, an American black man who was shot dead last week after two law enforcement officers misunderstood him as an accused of breaking car windows in California, was shot eight times in his back, according to an independent autopsy.
The postmortem report, commissioned by Clark's family and conducted by an American private medical examiner Dr. Bennet Omalu showed that the 22-year-old was shot three times in his lower back, twice near his shoulder and once each in his neck and under the armpit. He was also shot in the leg by the two Sacramento policemen in California, The New York Times reported.
Explaining the findings, Dr. Omalu said that the seven shots could have had a fatal capacity. Owing to the gunshots, Clark's vertebrae were found to be severely damaged, coupled with a collapsed lung and an arm broken into "tiny bits."
"He was shot from the back," Dr. Omalu said Friday at a news conference. Standing next to diagrams of the findings, he said that seven of the shots could have had a "fatal capacity." He described severe damage to Clark's body, including shattered vertebrae, a collapsed lung and an arm broken into "tiny bits."
Meanwhile, the Sacramento Police have said that they are yet to see the autopsy report and did not comment on it, adding it was "inappropriate" since the investigation was on.
"We acknowledge the importance of this case to all in our community," the police said in a statement.
Clark's family members have accused the Sacramento Police Department of trying to cover up misconduct by its officers and had decided to conduct its own autopsy instead.
Dr. Omalu said that Clark lived for around three to ten minutes as per the postmortem report. Medical assistance did not arrive until about six minutes after the gunfire ended.
In its initial account, the Sacramento Police Department said," Mr. Clark had advanced toward the officers while holding what they believed to be a firearm."
In a body camera footage provided by the police, it is not clear which direction the 22-year-old was facing. However, Clark's family's lawyer, Benjamin Crump, said the independent autopsy "contradicted the assertion by the police that he was a threat."
Crump said the autopsy report proved that Clark could not have been moving toward the officers "in a threatening fashion when they opened fire."
"These findings from the independent autopsy contradict the police narrative that we've been told. This independent autopsy affirms that Stephon (Clark) was not a threat to police and was slain in another senseless police killing under increasingly questionable circumstances," Crump said.
On March 18, two police officers were dispatched to the Meadowview neighborhood in South Sacramento on reports that a man was breaking car windows. A county sheriff's department helicopter also joined the search and at one point told the officers that a suspect had picked up a crowbar.
The officers eventually spotted Clark, who appeared to have run from them into his grandmother's backyard.
According to the body camera video, an officer was heard shouting the word "gun" repeatedly and opening fire almost immediately without any weapon. No weapon was found Clark's body and only his mobile phone was recovered from his possession.
After other officers arrived, the two officers involved in the shooting muted the audio on their body cameras as they discussed what had happened, which has also drawn criticism amongst the public.
After the shooting ended, a visibly bleeding Clark was gasping for breath when the two officers approached him.
"We need to know if you're okay," an officer yelled about three minutes after the gunfire ended. "We need to get you medics but we can't go over to get you help unless we know you don't have a weapon," he added.
Thousands of protesters took to the streets of Sacramento, the capital of California, demanding strict action against the two law enforcement officers.
More protests over the fatal shooting are planned on Saturday.
--ANI
Also Read: Trump designates April as sexual assault awareness, prevention month