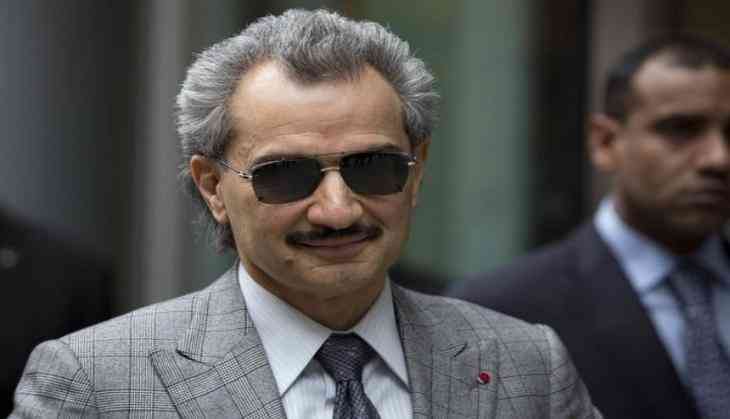 Eleven princes including prominent billionaire investor Prince Alwaleed bin Talal and dozens of current and former ministers were arrested in Saudi Arabia on Saturday a night after the formation of an anti-corruption committee by King Salman bin Abdulaziz Al-Saud.
The creation of a powerful new anti-corruption committee, headed by the crown prince, came only hours before the committee ordered the arrests.
According to Al-Arabiya, the committee has announced fresh investigations into the 2009 Jeddah floods and the outbreak of the Middle East Respiratory Syndrome (MERS) virus, which emerged in Saudi Arabia in 2012.
The committee has been given the authority to investigate arrest, ban from travel, disclose and freeze accounts and portfolios, track funds and assets of individuals involved in corruption, said the state-run Saudi Press Agency (SPA).
Saudi Arabia's Economy and Planning Minister Adel bin Mohammed Faqih, National Guard Minister Prince Miteb bin Abdullah bin Abdulaziz and Naval Forces Commander Admiral Abdullah bin Sultan bin Mohammed Al-Sultan, were removed from their position.
The three ousted ministers were replaced, with Prince Khalid bin Abdulaziz bin Mohammed bin Ayyaf Al Muqren becoming National Guard minister, Mohammed bin Mazyad Al-Tuwaijri becoming the Economy and Planning Minister, and Vice Admiral Fahd bin Abdullah Al-Ghifaili taking on the role of Naval Forces Commander, CNN reported.
According to the New York Times, Prince Alwaleed's arrest is expected to send shock waves both through the Kingdom and the world's major financial centers as he controls the investment firm Kingdom Holding and is one of the world's richest men, with major stakes in News Corp, Citigroup, Twitter and many other well-known companies.
The prince also controls satellite television networks watched across the Arab world.
The arrests are being viewed as the latest move to consolidate the power of Crown Prince Mohammed bin Salman, the favourite son and top adviser of King Salman.