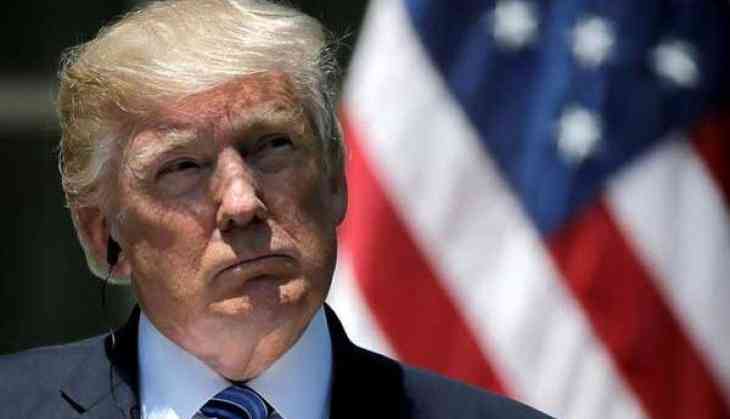 Ahead of United States President Donald Trump visit to the United Kingdom, mass protests and pro-rallies have been planned here to oppose his administration.
As President Trump is set to embark on a three-day visit to the UK on July 12, where he will meet with British Prime Minister Theresa May and Queen Elizabeth, there are fears that demonstrations over his visit could turn violent.
Various protests and demonstrations have been organised in Bristol, Newcastle, Leeds, Cambridge and Cardiff after Trump arrives on Thursday.
One of the demonstrations will begin on the evening of July 12, at Blenheim Palace, Oxfordshire, the birthplace of Winston Churchill. The protesters will gather here ahead of the visit by President Trump.
On the same day, protests against his visit have been planned outside US Ambassador's residence in Regent's Park where President Trump is reported to be staying overnight.
The evening protests include a 'wall of sound', with demonstrators using megaphones, whistles, pots, and pans to disrupt the President's stay.
Left-wing anti-Brexit group 'Another Europe is Possible' have also parked vans with message that reads-'Trump: Go Home or Face Protest' in Parliament Square to mark US President's visit to the UK.
Next, on July 13, a demonstration has been organised by the 'Stop Trump Coalition' with the initial protest movement.
The march will begin at the BBC in Portland Place and proceed to Trafalgar Square, where a rally will take place.
The demonstrators will also fly a six-metre tall blimp depicting Trump as a nappy-clad baby over the capital on the day of the protests.
The protest will continue on July 14 when a 'carnival of resistance' is scheduled to take place in Edinburgh, coinciding with Donald Trump's visit to the UK.
The demonstration is organised by 'Scotland United Against Trump.' It is to be noted that the US President is also expected to visit Scotland, where he owns a number of golf resorts, the day after his visit to London, read a statement by the Foreign Press Association.
The demonstrators here will gather at the Meadows and march to the Scottish Parliament, where the carnival will take place. The events include an anti-Trump welly toss, a Trump's head coconut shy and satirical mini golf.
Besides protests, UK supporters of President Trump are also scheduled to hold Pro-Trump rally outside the US Embassy in London.
Speakers include representatives from UKIP, the Democratic Football Lads Alliance, For Britain and others.
(ANI)