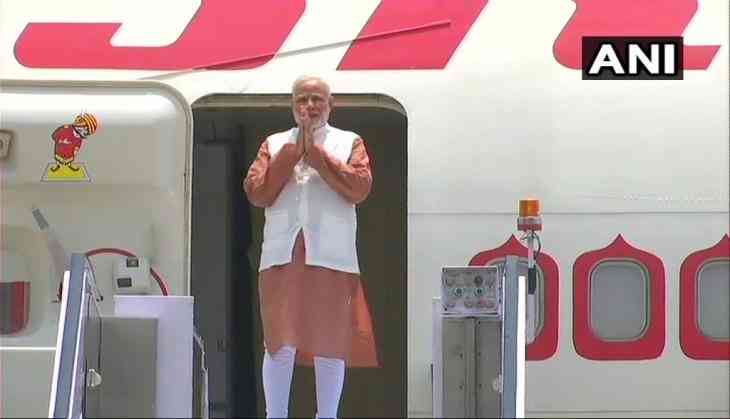 Prime Minister Narendra Modi on Thursday reached Malaysia's capital Kuala Lumpur, as a part of the second leg of his three-nation tour to South-East Asia.
The Prime Minister will now call on his newly-elected Malaysian counterpart Dr. Mahathir Mohamad in Putrajaya, about 30 km from Kuala Lumpur.
On May 10, Mahathir-led Pakatan Harapan party (Alliance of Hope) defeated the Barisan Nasional coalition that has ruled Malaysia for 61 years since independence from Britain.
He won a majority in the Malaysian Parliament as it emerged victorious in 122 out of 222 seats, which was enough for him to form the government.
This is Prime Minister Modi's second visit to Malaysia since 2015.
India and Malaysia have deep historical and cultural relations, dating back to ancient times. Malaysia is home to a strong concentration of Indian immigrants. They form at least 7 percent of Malaysia's population.
Prime Minister Mohamad, who is the incumbent and longest serving Prime Minister of Malaysia, has Indian ancestry.
On the trade front, the bilateral trade volume between the two countries currently stands at USD 10.5 billion in 2017 and is poised to reach USD 25 billion by 2020.
After the meeting, Prime Minister Modi will proceed for Singapore, where he will be residing at Hotel Fullerton.
After this, he will pay a visit to India-Singapore Enterprise and Innovation Exhibitions at the Marina Bay Sands Convention Centre.
Following the exhibitions, the Prime Minister will attend a business and community event.
Later, Prime Minister Modi will have a business round-table conference with CEOs for dinner.
In a statement on Monday, the Ministry of External Affairs (MEA) said that Indonesia, Malaysia and Singapore, three countries in the ASEAN region are strategic partners of India.
"The Government of India attaches high importance to its relations with the ASEAN region and is committed to deepening its relationship with individual ASEAN member states, within the framework of Government's Act East Policy. The visit would enable the Leaders to discuss bilateral, regional and international issues of mutual interest," the MEA said in a statement.
Prime Minister Modi is currently on a three-nation tour to Indonesia, Malaysia and Singapore.
(ANI)