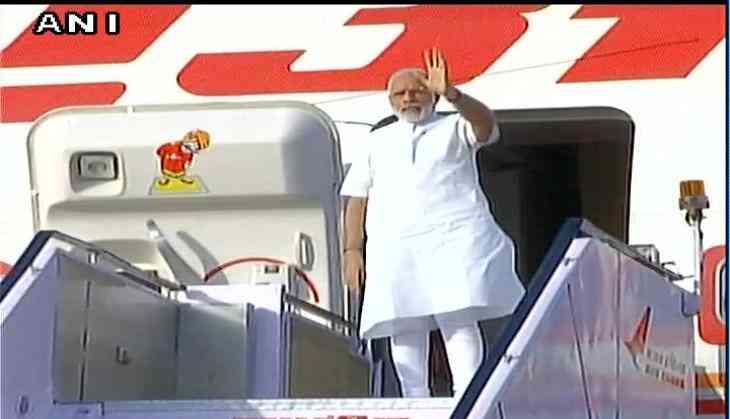 Prime Minister Narendra Modi arrived in the Netherlands on Tuesday on the final leg of his three-nation tour after concluding his visit to the United States.
During the visit, Prime Minister Modi will be meeting Dutch Prime Minister Mark Rutte and will also call on King Willem-Alexander.
"I look forward to meeting Prime Minister Rutte and reviewing our bilateral relations. I would be exchanging views with PM Rutte on important global issues, including counter-terrorism and climate change," PM Modi had said on his Facebook page before leaving for his three-nation trip last Saturday.
Prime Minister Modi will also be meeting CEOs of major Dutch companies. He will also be meeting Indian Diaspora in The Netherlands.
"The Netherlands is our 6th largest trading partner in the EU and 5th largest investment partner globally. The Dutch expertise in areas such as water and waste management, agriculture and food processing, renewable energy and ports and shipping, matches with our development needs. Indo-Dutch economic engagement is a win-win proposition. I will discuss with PM Rutte as to how the two sides should work to further harness the synergies," PM Modi had said in a Facebook post.
https://twitter.com/MEAIndia/status/879515273002270720
Earlier in the U.S., Prime Minister Modi held one-to-one and delegation-level talks with President Donald Trump at the White House.
During the delegation-level meeting, the two leaders touched upon various topics ranging from purchase of military equipment to the bilateral relations between the two nations.
Trump struck upon the topic of purchase of military equipment, in reference to the recent F16 joint production deal.
"Thank you for ordering equipment from the US. No one makes military equipment like the U.S.," he said.
Trump extended a warm welcome to Prime Minister Modi even as he, along with First Lady Melania, received him at the White House earlier in the day.
Heaping praises on Prime Minister Modi, Trump said that he had been reading a lot about him and that he would want to congratulate him for the exemplary leadership he has shown, primarily, economically.
Prime Minister Modi, while thanking Trump for the warm welcome rendered to him, said the kind of welcome he was given, it was a welcome to the 125 crore people of India.
In marking 70 years of diplomatic relations between India and the United States, the leaders also resolved to expand and deepen the strategic partnership between the countries and advance common objectives. Above all, these objectives include combating terrorist threats, promoting stability across the Indo-Pacific region, increasing free and fair trade, and strengthening energy linkages. President Trump and Prime Minister Modi expressed confidence that, together, the United States and India will provide strong leadership to address global challenges and build prosperity for their citizens in the decades to come.
"Both leaders called upon Pakistan to ensure its territory is not used to launch terror attacks on other countries. They further called on Islamabad to expeditiously bring to justice the perpetrators of 26/11 Mumbai blasts, Pathankot incident and other cross-border attacks," Indian Foreign Secretary Dr. S. Jaishankar said.
"The other issue was the military part and it was broadly and extensively discussed alongwith Pakistan. There are a number of countries that are saying that their terrorism concerns also originate form the same source, and that is Pakistan. It's the right time to fix responsibility and highlight the core problem," he added.
India also appreciated the United States designation of the Hizb-ul-Mujahideen leader Syed Salahuddinas a Specially Designated Global Terrorist as evidence of the commitment of the United States to end terror in all its forms, a joint statement issued by Indian Prime Minister Narendra Modi and U.S. President Donald, following delegation-level talks said.
-ANI