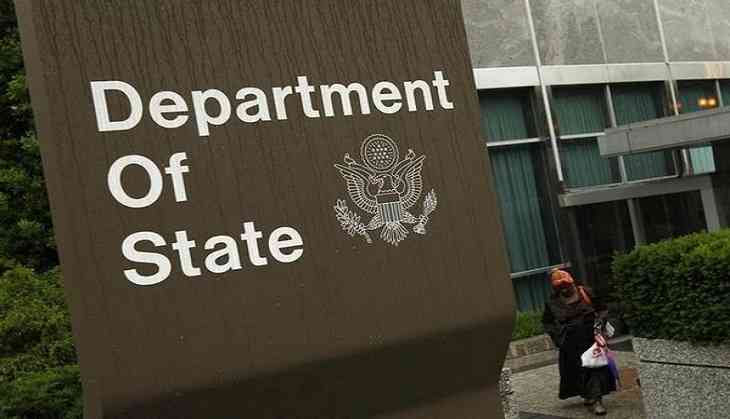 Department_Of_State (ANI)
The United States on Thursday said that it was open to talks with North Korea, hours after President Donald Trump accepted an invitation and agreed to meet North Korean supreme leader Kim Jong-un by May.
At a press briefing, US State Department spokesperson Heather Nauert said, "The US is open to talks with North Korea. Deputy Secretary John Sullivan met with the South Korean delegation on the outcome of their trip to Pyongyang."
The South Korean delegation led by National Security Office Chief Chung Eui-yong spoke with Trump and also handed him an invitation letter from Kim.
The delegation arrived at the White House on Thursday on a two-day trip to update officials on their recent talks with Kim at the headquarters of the Worker's Party of Korea in Pyongyang.
Other members of the delegation include Suh Hoon, chief of the National Intelligence Service (IS">NIS), Chun Hae-sung, vice minister of unification ministry, Yun Kun-young, a Cheong Wa Dae (presidential Blue House) official, and Kim Sang-gyun, a senior IS">NIS director.
Commenting on the authenticity of the message of the delegation to Trump, Nauert said, "We are closely coordinating with the Republic of Korea. I mean, it is no surprise that we are so closely linked in this and that they left Pyongyang and came to Washington D.C. to brief us. That shows how closely coordinated and connected we are with our allies and partners in our ironclad relationship that continues very strongly today."
On being asked about Kim's remarks on the legitimacy of nuclear weapons, Nauert clarified that she was not aware of any remarks.
Replying to a query on the withdrawal of the Syrian Democratic Forces (SDF) in Syria's Afrin region, the US State Department spokesperson thanked the SDF for supporting and participating with the US in eliminating the dreaded Islamic State (IS) group in Syria.
"They have been a tremendous fighting force. Without the SDF, we would not have been able to achieve the success. For example, in Raqqa, the US Government and coalition partners have succeeded, with people now slowly being able to come back home. They're a valuable partner. We would like to see the ISIS defeated once and for all. The best way to do that is to stay focused on ISIS," Nauert continued.
On January 20, Turkish forces launched a military offensive titled - 'Olive Branch' to clear out the Kurdistan Workers' Party (PYD/PKK) and IS terrorists from Afrin in northwestern Syria. Over 3,000 terrorists have been 'neutralised' so far in the nearly two-month operation.
The PKK, which is based in Turkey, Iraq, and parts of Syria, has been involved in an armed conflict with Turkey for the past few years. Its aim is to achieve the objective of creating an independent Kurdish state.
It has been listed as a terrorist organisation by Turkey, the United States, and the European Union.
On being asked on reports that worldwide tariffs on steel and aluminium would be imposed within 15 days, Nauert clarified that the review was under process and would meet Trump regarding the matter soon.
"We have deep relationships with them where we discuss a range of issues, whether it would be tax and trade issues or various campaigns that we're involved with around the world," she added.
Trump on Thursday signed a proclamation that imposes new tariffs on steel and aluminium imports, claiming the revised tariff plans have been introduced to stop "assault on the US".
The new order will see a 25 percent tariff on imports of steel and a 10 percent tariff on aluminium. This might potentially have huge implications on the international trade front, with many experts predicting it will adversely affect oil prices.
--ANI