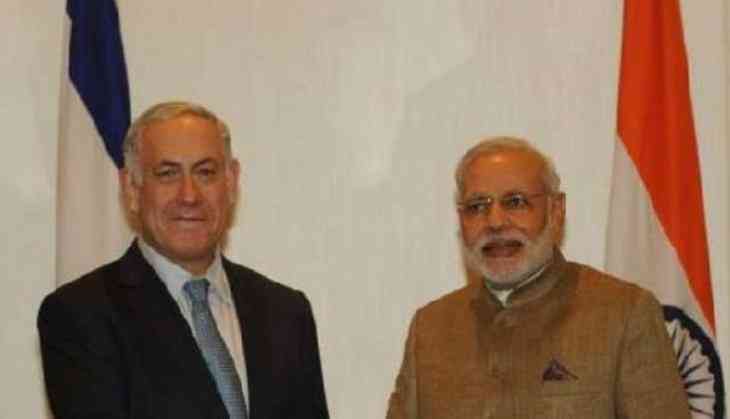 In a special gesture, Israeli Prime Minister Benjamin Netanyahu will accompany his Indian counterpart Narendra Modi at all events during the later's historic visit to the country from July 4-6.
Israel will welcome the Indian Prime Minister on his visit to the country on the backdrop of marking 25 years of diplomatic relations between India and Israel.
"Israel warmly welcomes Indian Prime Minister, Narendra Modi, on his visit to Israel at the invitation of the Prime Minister of the State of Israel, Benjamin Netanyahu," Embassy of Israel in India said in an official release.
Meanwhile, Israeli Media is terming Prime Minister Modi as the 'most important person'.
Narendra Modi will be the first ever Indian Prime Minister to visit Israel.
During the visit, the Prime Minister will have detailed discussions with his Israeli counterpart on all matters of mutual interest and will also call on President Rivlin.
The visit also includes high-level bilateral meetings and other various components which reflect the fabric of the Indo-Israeli relations.
The embassy said the visit by Prime Minister Modi will further upgrade the ever growing partnership between the two countries.
"Next week, the Indian Prime Minister, my friend, Narendra Modi will arrive in Israel, This is an historic visit to Israel. In the 70 years of the country's existence no Indian Prime Minister has ever visited and this is further expression of the State of Israel's military, economic and diplomatic strength," Netanyahu announced at a weekly cabinet meeting on Sunday.
Netanhayu added that cabinet will also approve decisions regarding ties with India that will pass include increasing exports, deepening cooperation in the fields of water and agriculture, establishing a joint fund for research and innovation, and increasing Indian tourism to Israel.
Earlier in November last year, Israeli President Reuven Rivlin came to India on a week-long state visit - the first by an Israeli President in nearly 20 years.
Indian President Pranab Mukherjee visited Israel in October 2015, symbolizing the growing partnership between the two nations.
-ANI