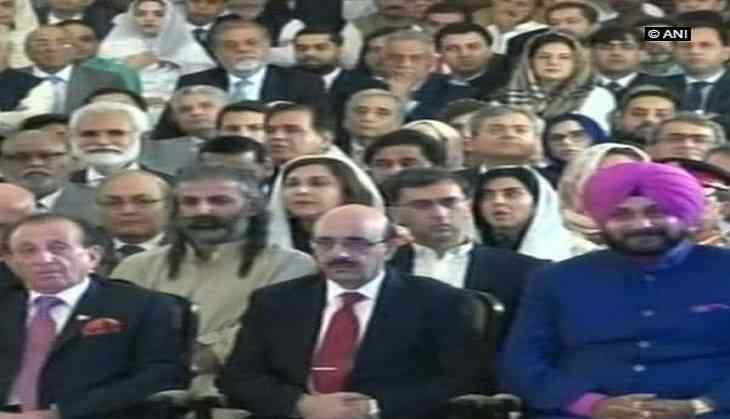 The Pakistan government on Saturday made Indian politician Navjot Singh Sidhu sit next to President of Pakistan occupied Kashmir (PoK), Masood Khan, during the swearing-in ceremony of Imran Khan. Khan took oath as Pakistan's 22nd Prime Minister.
At the event, Pakistan government instead of seating Congress leader Sidhu with other foreign dignitaries, positioned him next to Masood Khan in Aiwan-e-Sadr Hall of President's House. Earlier, Sidhu and Pakistan Army Chief General Qamar Javed Bajwa were spotted hugging each other at the President House prior to oatch taking ceremony.
Before entering the President House, Sidhu said: "People like Khan Sahab (Imran Khan) create history. With this invitation, they have honoured me. People who build relationships are respected, people who break them are disrespected and I am one of those who respect relationships. It's a new dawn. This government has come to change this country's perception, picture and destiny, with high hopes and expectations."
Sidhu, who is also a minister in the Congress-led Punjab government, on Friday said that he sees himself as "a goodwill ambassador of India." During a press conference on August 2, Sidhu highlighted that the invitation extended to him was in personal capacity.
On Friday, Khan was elected as the new Prime Minister of Pakistan, defeating his rival Pakistan Muslim League-Nawaz (PML-N) candidate Shehbaz Sharif. While the 65-year-old cricketer-turned-politician bagged 176 seats, Sharif, the PML-N president and the brother of jailed former Pakistan Prime Minister Nawaz Sharif managed to secure just 96 seats.
In the July 25 general elections, the PTI had emerged as the single largest party with 116 seats. The number increased to 158 in the NA after the Election Commission of Pakistan (ECP) issued notifications of the successful candidates on the reserved seats for women and the minority community on August 11.
(ANI)