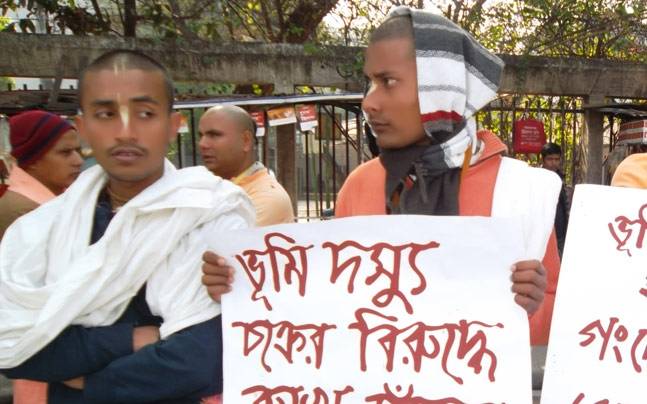 A Hindu religious congregation at a ISKON temple in Bangladesh was attacked by unidentified gunmen who hurled bombs and fired gunshots at the worshippers, injuring two people in the second such incident in the same area in less than a week.
Three improvised bombs were thrown as dozens rallied at the temple at village at Kaharol sub-district last night and then fired gunshots leaving the two people wounded.
"The priests and devotees first thought some people were celebrating their victory in a local school committee election exploding firecrackers but the miscreants then fired six gunshots when the two were wounded," a police officer told PTI over phone.
The temple run by International Society for Krishna Consciousness (ISKCON) in northwestern Dinajpur, police and witnesses said.
He said the devotees and the people in the neighbourhood chased and caught one of the attackers from near the scene while the second suspect was detained from the neighbouring Birganj sub-district today when he sought refuge at a home.
"The second detained miscreant fired a shot injuring the minor son of a landlord who refused to give him refuge early today but the neighbours rushed to the scene and caught him," a local journalist reported from the scene.
He said the two Hindu devotees and the Muslim boy were being treated in two state-run facilities while police said they were questioning the two detained suspects.
"We can't give you the details about the identity or the motive of the attack right now but we have launched an investigation and interrogating the two detained miscreants," Dinajpur's police superintendent Ruhul Amin said.
A large number of people of the Hindu residents at the area rallied on the premises of Dinajpur Press Club to stage a human chain protest as the attack came five days after 10 people were injured in bomb blasts during another Hindu festival on the premises of historic Kantaji Temple, an archaeological site, at the same sub-district.
Police, however, claimed that the last week's attack was a result of conflict between two groups of politically influential leaders over the lease of the Rashmela festival venue.
-PTI