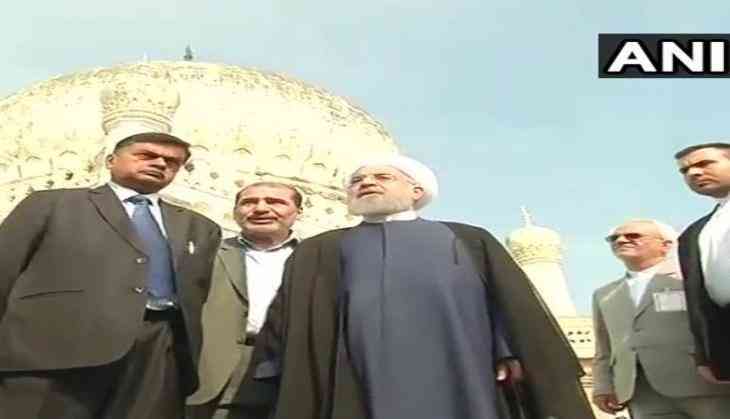 Hassan_in_Hyderabad (ANI)
Iranian President Hassan Rouhani visited the famous Qutub Shahi tombs on the second day of his Hyderabad visit on Friday.
President Rouhani visited the tombs of Qutub Shahi rulers in the Golconda area in the city.
"The Iranian president reached the tombs at around 9 a.m. The Telangana Government officials and Aga Khan Trust for Culture (AKTC) office-bearers briefed the Iranian president about the tombs," Deputy Commissioner of Police (West Zone) Venkateshwar Rao said.
Located a kilometre away from the Golconda Fort, Qutub Shahi Tombs consist of tombs of seven Qutub Shahi rulers. These tombs captivate the tourists with the architectural excellence presenting a beautiful blend of Persian and Indian architectural styles, as per the data from Hyderabad Tourism.
Constructed on an elevated platform, the Qutb Shahi tombs are made up of grey granite. These are dome-structured and have a quadrangular shape.
The tombs were constructed by Sultan Quli Qutub-ul-Mulk, who is the founder of Qutub Shahi Dynasty, a 16th-century dynasty that ruled parts of present-day Telangana and Andhra Pradesh, with its capital as Hyderabad. He not only built his tomb for himself but also for his non-ruling royal family members such as of nephews, nieces, and sisters.
The Iranian leader will address the Muslim congregation at Makkah Masjid, after performing the Friday prayers at the historic mosque before leaving for Delhi later in the day. Religious scholars from different schools of thoughts will also participate in the session.
This is the second time that President Rouhani is visiting Hyderabad, and the first visit after assuming charge as the President of Iran in 2013.
During the visit of President Rouhani in Delhi, he will call on the Prime Minister Narendra Modi and President Ram Nath Kovind.
Both Iranian and Indian sides would review the progress achieved in bilateral relations and also exchange views on regional and international issues of mutual interest.
--ANI