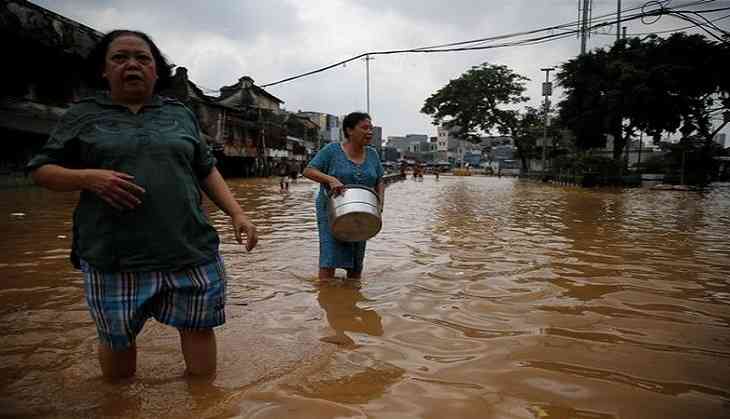 Four people were killed and two went missing after torrential rains lashed the Indonesian capital and its suburbs since Monday evening, local authorities said on Tuesday.
According to The Straits Times, more than 6,500 residents in low-lying areas in Jakarta were evacuated to shelters following torrential rains that caused widespread floods and landslides across the city.
Indonesia's disaster mitigation agency pulled out three bodies from the rubble after the torrential rains inundated a village and triggered a landslide near Jakarta.
Rescue operations were underway to find two others who were feared trapped and buried in a pile of mud in the village.
"Although thousands of houses have been inundated, a lot of residents declined to evacuate. They opted to stay at their house, having moved their belongings to the upper floor of their house," Head of Information Data Center and Public Relations of the National Disaster Management Agency (BNPB) Sutopo Purwo Nugroho said in a statement.
In areas such as Cawang, Cililitan, and Kalibata, flood waters reached as high as 2 metres.
A 24-year-old woman who was trapped under a collapsed underpass near the Jakarta airport on Monday evening was pulled out from the rubble after 10 hours in the wee hours of Tuesday.
However, she succumbed to her injuries later on.
The woman was driving past the underpass near the Soekarno-Hatta International Airport when its wall collapsed at around 5 pm (local time) on Monday.
Indonesian authorities on Tuesday had opened a floodgate in the Ciliwung River to flush out the excessive muddy waters that have wreaked havoc in Jakarta for more than 24 hours.
Jakarta is lashed by torrential rains every year, causing flash floods and landslides, which leads to higher casualties and loss of property.
Most recently in 2013, the floods that had ravaged Jakarta and its suburbs killed 47 people.
-ANI