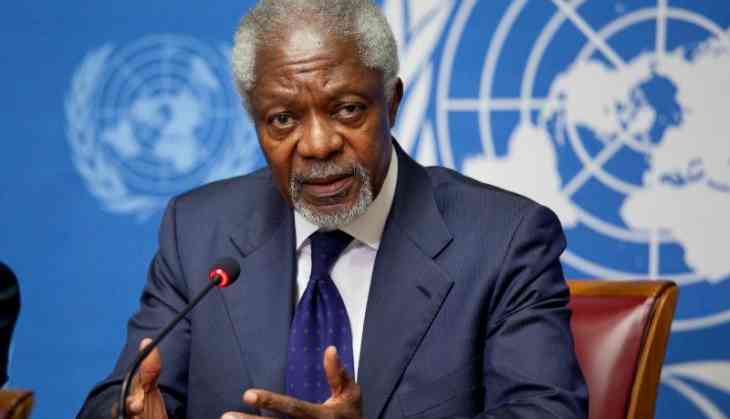 Former United States President Barack Obama paid his rich tribute to former United Nations Secretary-General Kofi Annan, who passed away yesterday, saying the latter never stopped his pursuit of a better world.
Annan breathed his last at the age of 80 in Bern, Switzerland after a short illness, his family and the Kofi Annan Foundation announced on Saturday.
In a statement, Obama recalled Annan's "integrity, persistence, optimism," while adding that the world peace icon "embodied the mission of the United Nations like few others," The Hill reported.
"His integrity, persistence, optimism, and sense of our common humanity always informed his outreach to the community of nations. Long after he had broken barriers, Kofi never stopped his pursuit of a better world, and made time to motivate and inspire the next generation of leaders," Obama elucidated.
Annan was the first black African to serve as the Secretary-General of the UN between 1997 to 2006. He was hailed for championing world peace and for his humanitarian efforts. The Ghanaian diplomat and the UN were bestowed with the Nobel Peace Prize in 2001.
The incumbent Secretary-General of the UN, Antonio Guterres, also mourned Annan's demise and said that "his legacy as a global champion for peace will remain a true inspiration".
"Kofi Annan was a guiding force for good. I join the world in mourning his loss. In these turbulent and trying times, his legacy as a global champion for peace will remain a true inspiration for us all." Guterres tweeted.
Condolences from various world leaders started pouring in soon after Annan's demise.
Prime Minister Narendra Modi wrote on the micro-blogging site, "We express our profound sorrow at the passing away of Nobel Laureate and former UNSG Mr. Kofi Annan. The world has lost not only a great African diplomat and humanitarian but also a conscience keeper of international peace and security."
Prime Minister Modi praised Annan for his contribution to the Millennium Development Goals (MDGs), the global body's roadmap for eradicating poverty, halting the spread of HIV/AIDS and providing universal primary education.
"Mr. Kofi Annan's significant contribution to the MDGs will always be remembered. My thoughts are with his family and admirers in this hour of grief. May his soul rest in peace," he added.
Annan played a key role in Israel's withdrawal from Lebanon in 2000, and brokering peace between Tel Aviv and Hezbollah in 2006. He was also a part in the 'Global Compact' initiative in 1999, which aimed at promoting corporate social responsibility.
After his tenure at the UN ended, the world peace icon founded the Kofi Annan Foundation, wherein he continued his human rights work. The longtime UN diplomat was the chairman of the Africa Progress Panel and the Alliance for a Green Revolution in Africa, and also the Nelson Mandela-founded group, The Elders.
(ANI)