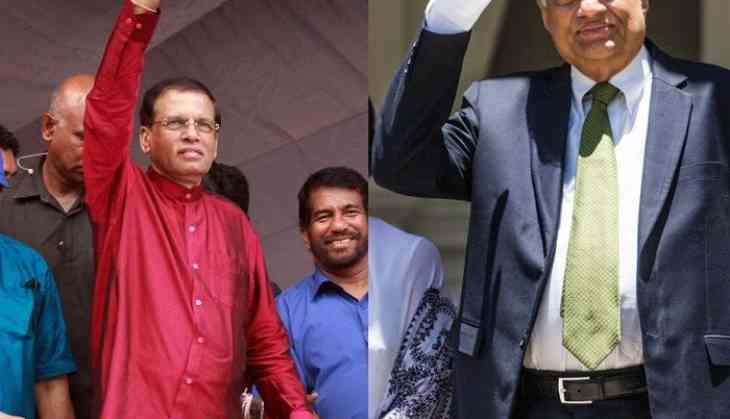 Sri Lanka President Maithripala Sirisena has sacked the incumbent Prime Minister Ranil Wickremesinghe after the United People's Freedom Alliance (UPFA) withdrew its support from the ruling government.
After this shocking development, the island was forced to undergo an unprecedented constitutional crisis until the new Prime Minister Mahinda Rajapakse took over.
But amidst all the developments, the incumbent Ranil told the reporters at the nationally televised press conference that, "I am addressing you as the prime minister of Sri Lanka, I remain as prime minister and I will function as the prime minister."
The Constitutional crisis occurred in Sri Lanka when the President Sirisena sacked the current Prime Minister Ranil, but as the constitutional amendment passed in 2015, the president had lost the power to sack the prime minister.
The prime minister and his United National Party (UNP) came to power promising accountability for the alleged atrocities in Sri Lanka's civil war.
"We call on all parties to act in accordance with SL's Constitution, refrain from violence, and follow due process," said the US State Department.
"We expect gov of SL to uphold its Geneva commitments to human rights, reform, accountability, justice, and reconciliation."
"The appointment of Mahinda Rajapaksa as prime minister is unconstitutional and illegal. This is an undemocratic coup," said Ranil's cabinet minister Mangala Samaraweera.
"At the moment, there is a constitutional crisis – two persons each claiming to be the prime minister," said Jehan Perera, executive director of National Peace Council of Sri Lanka. He further added that "What the president now should do immediately is to summon Parliament and have a vote. That's the democratic way to resolve this crisis."
Also read: #MeToo: Google's Sundar Pichai sacked 48 people, including 13 senior managers on sexual harassment