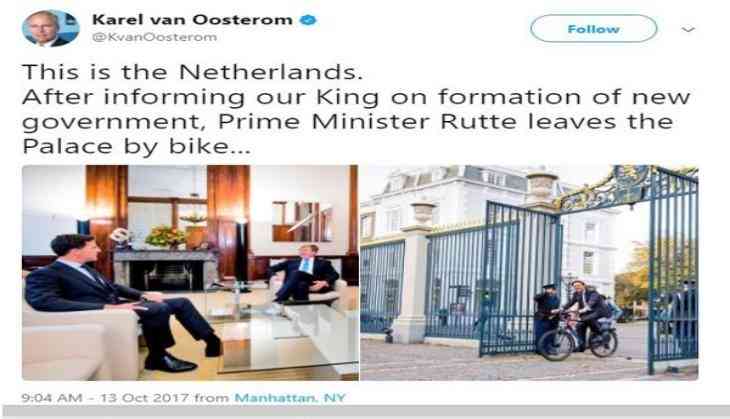 Dutch Prime Minister Mark Rutte went on a bicycle to meet the King to inform him about the formation of a new government in the wake of drastic levels of air pollution that is affecting the health of the people.
The environmental group Milieudefensie said that the air quality in parts of Amsterdam, Maastricht and Rotterdam has high concentration of nitrogen dioxide that breaks EU standards, exposing the population to dangerous levels of pollution since January 2015, local media reports.
Karel van Oosterom,Permanent Representative to the United Nations for the Kingdom of the Netherlands tweeted the picture of Prime Minister Rutte saying , "This is the Netherlands. After informing our King on formation of new government, Prime Minister Rutte leaves the Palace by bike..."
Extremely concerned over the air pollution, Dutch Prime Minister Mark Rutte has reflected his priorities before swearing in, as the cabinet is likely to be sworn in on October 26. It will be his third government. Rutte has been Prime Minister of the Netherlands since 2010.
The four parties on Monday announced that they had reached a deal on a coalition agreement, after the country had been without a new government since the March 15 parliamentary election.The four parties are Rutte's center-right People's Party for Freedom and Democracy (VVD), the conservative Christian Democratic Appeal (CDA), the liberal D66 and the conservative Christian Union (CU), Politico reported.
-ANI