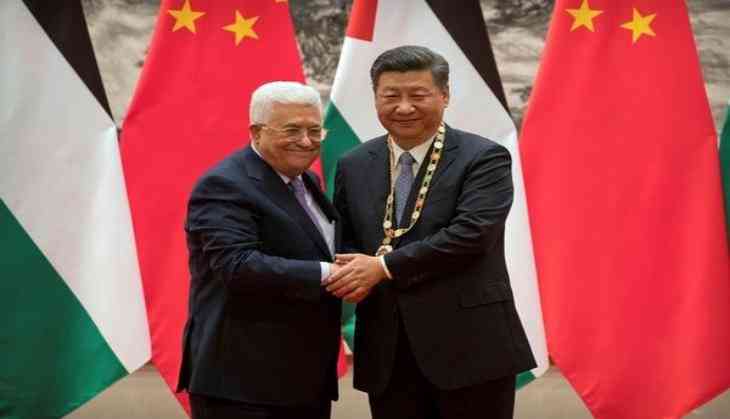 Chinese President Xi Jinping on 19 July voiced support for a political settlement of the Palestinian issue on the basis of the two-state solution.
China supports Palestine in building an independent, full sovereignty state along the 1967 borders with East Jerusalem as its capital, Xinhua quoted Xi as saying in his talks with visiting Palestinian President Mahmoud Abbas.
Xi said the UN Security Council Resolution 2334 should be effectively implemented, and all the settlement-building on the occupied territories of Palestine should be immediately stopped.
The resolution, adopted on December 23, 2016, condemned Israel's settlements on occupied Palestinian territory as illegal, and urged it to halt building.
The Chinese leader said that measures should be taken to prevent violence against civilians and peace talks should be resumed as soon as possible.
He added that China is one of the first countries to support the just cause of the Palestinian people and to recognise the Palestine Liberation Organisation and the Palestinian state.
He even offered to host a symposium on peace between Palestine and Israel later this year.
"China proposes to launch a tripartite dialogue mechanism with Palestine and Israel to advance major projects to assist the Palestinian side," Xi said.
Xi said China appreciates Palestine's adherence to the one-China policy. He said China will work with Palestine to give political support to each other, maintain high-level exchanges and promote cooperation in various areas.
China regards both Palestine and Israel as important partners under the Belt and Road Initiative, he said.
Abbas is on a state visit to China from July 17 to 20 at the invitation of Xi.
From 1948 to 1967, West Jerusalem remained under Israeli control, while East Jerusalem was held by the Jordanians.
Following the 1967 Six-Day War, Israel occupied East Jerusalem and the West Bank. For the first time in, all of Jerusalem came under Israel's governance. Israel claims the entire city as its united capital, but no country recognizes this decision. The Palestinians claim East Jerusalem as the capital of a future Palestinian state.
-ANI