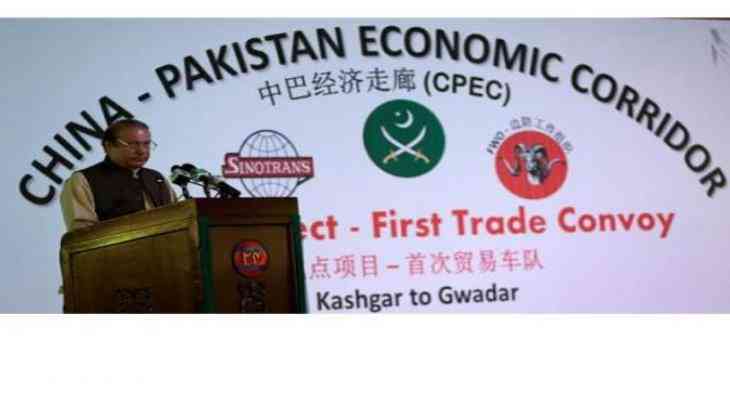 As the much anticipated findings of the joint investigation team (JIT) have implicated the Pakistan Prime Minister Nawaz Sharif and his family in the Panama gate Case and his disqualification and ouster is becoming inevitable day by day, his biggest friend and ally China is not concerned about him, but only concerned about the 'One Belt, One Road (OBOR)' initiative, that includes China-Pakistan Economic Corridor (CPEC) as its "flagship" project.
As being widely reported in the Pakistani media, "Prime Minister Nawaz Sharif's disqualification or imprisonment by the full court bench sounds like the writing on the wall for not only concealing assets, but also for failing to reveal their sources of income and presenting a fake money trail," the political situation in Pakistan has become fluid and volatile making China upset about future of the China-Pakistan Economic Corridor (CPEC).
"China is upset as the situation arises due to the Panamagate JIT as political instability in Pakistan is the major risk to China-Pakistan Economic Corridor (CPEC)," A B Mahapatra, Director of CASS-India told ANI in an exclusive conversation.
As the political situation in Pakistan has become fluid and if the PM Nawaz is compelled to resign or dissolve the assembly or even if there is a change of leadership, China would be looking at Pakistan only from a business point of view and will engage with who so ever occupies the central leadership as Beijing just believes in the business first.
PM Nawaz Sharif has also lost Chinese leaders faith because, "Some differences have emerged between Sharif and Chinese leadership: first on the issue of Karakoram toll tax collection and second on the tariff related to the coal power plants which China is constructing there. These issues emerged as major irritants in Sino-Pak relationship in the month of May in Beijing when Pakistani officials met Chinese leaders," says Mahapatra.
According to Mahapatra, "China is upset with PM Nawaz Sharif as Beijing has been dragged into court for charging higher tariff for the power plants".
Pakistan is of the view that when their government is providing security to the Chinese projects with manpower and maintenance support and also giving compensation to the owners of land that are being taken for the projects, then they are lawfully entitled to receive toll tax of the Karakoram Highway. But China contends that since it had built the Karakoram Highway in 1970s and is financing the current projects, they should receive the toll tax.
China is engaged in building several Roads, Railway and the power projects under CPEC which includes the Khunjerab railway, a high-altitude line that would run roughly alongside the Karakoram and link north-eastern Pakistan with the Chinese city of Kashgar, which has become the present bone of contention.
Another irritant in their relationship is the tariff related to the coal power plants which China is constructing in Pakistan and the matter has been moved to the court.
There are 17 energy projects being completed under the CPEC including the Port Qasim coal plant in Sindh and ZTE Energy Pakistan PV power plant in Punjab.
The National Energy Power Regulatory Authority (Nepra) had approved tariff for the project at 71 paise/unit, while the government's Private Power Infrastructure Board had filed a review petition on the tariff in order to address Chinese investors' concerns who were demanding 95 paise/unit.
Minister for Planning and Development in the Pak government Ahsan Iqbal and Planning Commission Secretary Yousuf Nadeem Khokhar, who are the two point persons of Prime Minister Nawaz for CPEC projects, have expressed concern over the fixing of power tariff for CPEC-related power projects by the Chinese.
However, Chinese leadership is not much impressed by the mere expression of such concerns by the PM Nawaz's team and expected better handling of the issue by his government.
China is also not worried by the possibility of change of guard in Pakistan, which is facing serious internal security threat from the various jihadi groups including Tehrik-i-Taliban Pakistan (TTP), because China depends 80% on Pakistan Army and 20% on the civilian government for the fulfilment of their economic and strategic interests.
China has entered into a deal with Pakistan Army to provide security to the CPEC projects and General Qamar Javed Bajwa has ensured to provide fool-proof security to the said projects.
Observers in Islamabad believe that Pakistan will gradually become a colony of China and the civilian leadership should refrain from falling into the debt trap of Beijing as China has offered massive loans at six per cent interest rates to Pakistan, excluding insurance cost which is far higher than what is being offered by the world financial institutions. Pakistan will have to cough up $2billion to China annually to repay the loans.
Pakistan is of vital strategic importance to China to fulfil its ambition of reviving the ancient Silk Road (21st-century Maritime Silk Road) trading routes through its "One Belt- One Road," China will remain benevolent towards Pakistan as Pakistan's geographical location helps China to enlarge its sphere of influence in Afghanistan, Central Asian Republics and to increase connectivity between the continents of Asia, Europe and Africa, no matter who leads the country.
It's also obvious that any government of Pakistan cannot live without having the full support of China whether it is ruled by Nawaz or by Military.
"Pakistan is also keeping an eye on imaginary external threat like India, as it considers that China will come to their rescue if India acts militarily against them and while Islamabad has antagonized Afghanistan, therefore Pakistan will always try to keep friendship with Beijing intact," Dr Ashok Behuria, South Asian expert working with New Delhi based Indian Defence Studies and Analysis (IDSA) said while talking to ANI.
-ANI