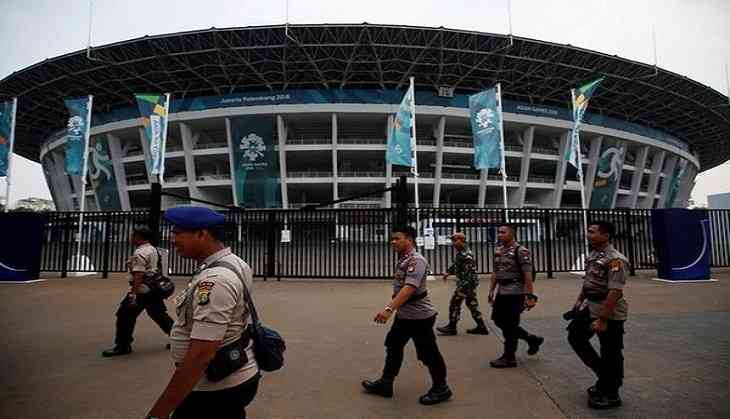 Indonesian police has killed dozens of petty criminals in a massive crackdown against them, ahead of the 18th edition of the Asian Games that begins today.
According to a report by the Amnesty International, 31 people died in police raids between January and August this year in Jakarta and Palembang, the two host cities of the Asian Games. The report also revealed that 77 people were killed by the Indonesian police across the country during the same period, CNN reported.
The total number of those killed and accused of petty crimes in 2018 represented an increase of 64 per cent over the same period in 2017. Amnesty said that the crackdown by the police was "unnecessary and excessive" and accounted for almost "zero accountability for the deaths."
"In the months leading up to the Asian Games, the authorities promised to improve security for all. Instead, we have seen the police shooting and killing dozens of people across the country with almost zero accountability for the deaths," said Amnesty International Indonesia Executive Director Usman Hamid.
He added, "These shocking figures reveal a clear pattern of unnecessary and excessive use of force by the police, and a constant veil of impunity that taints public security institutions. The hosting of an international sporting event must not come at the price of abandoning human rights. The killings must stop and all deaths must be promptly and effectively investigated."
The human rights group elucidated that most of the killings occurred when the low-level criminals, carrying guns and sharp weapons, rode on motorcycles to rob the passers-by.
As a part of a "public safety" operation, 14 people (11 in Greater Jakarta and three in South Sumatra region) were shot dead by the police between July 3 to 12, the Amnesty report said.
The report revealed that 41 people were shot in the legs and over 700 others arrested were charged with a criminal offence.
While accusing the Indonesian police of launching a 'shoot first and ask questions later' policy, Hamid further said, "The National Commission on Human Rights and National Police Commission must promptly launch a thorough, impartial and independent investigation into the killings and bring everyone suspected of criminal responsibility before justice, including those in the chain of command."
The Asian Games will begin on Saturday and continue till September 2 in the Indonesian cities of Jakarta and Palembang.
(ANI)