A total of 31 constituencies go to polls in the second round of Phase -I of the West Bengal assembly elections today. This round covers four different districts of West Midnapore, East Midnapore, Bankura and Burdwan. Here's a look at the region, candidates and key factors.
West Midnapore:
Danton, Kharagpur Sadar, Kharagpur, Narayangarh, Sabang, Pingla, Debra, Chandrakona, Garbeta, Keshpur and Keshiary.
East Midnapore:
Daspur, Ghatal.
Bankura:
Saltora, Chhatna, Bankura, Barjora, Onda, Bishnupur, Kotulpur, Indas and Sonamukhi.
Burdwan:
Durgapur Purba, Durgapur Pashchim, Raniganj, Jamuria, Asansol Dakshin, Asansol Uttar, Pandabeshwar, Kulti and Barabani.
While most of these seats were won by Trinamool Congress in the 2011 Assembly elections, the Left Front won eight – Pandabeshwar, Jamuria, Keshiari, Keshpur, Garbeta, Chandrakona, Kharagpur, Narayangarh, Danton and Pingla.
Significantly, six of these eight seats are located in West Midnapore.
Congress which was in a tie-up with Trinamool then, and is allied to the Left now, won Katalpur and Sabang.
The seats in this phase have been characterised by political violence, especially those in Keshpur and Garbeta in West Bengal.
Even on Friday night, a booth president of the TMC, Joydev Jana, was brutally murdered in Sabang. Congress-backed goons have been blamed for the incident.
A decade and a half ago, the region was dominated by the Left with no entry for the TMC. There have been infamous political murders, allegedly orchestrated by the Left MLA from Garbeta, Sushanta Ghosh and his aides Tapan Ghosh and Sukur Ali.
All three were later arrested. They're presently out on bail but away from the public eye.
The region in and around the Burdwan industrial region (Jamuria, Durgapur etc) , also a Left bastion once, has seen almost a complete switch toward the TMC.
However, in 2014 the BJP managed to win the Asansol Lok Sabha seat, a region marked by the presence of Hindi-speaking voters.
In the 2014 general election, TMC was ahead with 23 of the 31 seats— the same as 2011 assembly elections.
But among these, they may lose Kharagpur Sadar and Durgapur Purba this time. Durgapur Pashchim, Chhatna and Sabang may see a close contest if the Left and Congress manage to vote together.
In Jamuria and Sabang, the Left was ahead in 2014 and BJP was ahead in 6 seats - Raniganj, Kulti, Barabani, Kharagpur Sadar, Asansol Dakshin and Uttar. Congress was ahead in only 1 seat – Kotulpur.
Also read: Music for Mamata's ears: Babul Supriyo out of tune with Asansol voters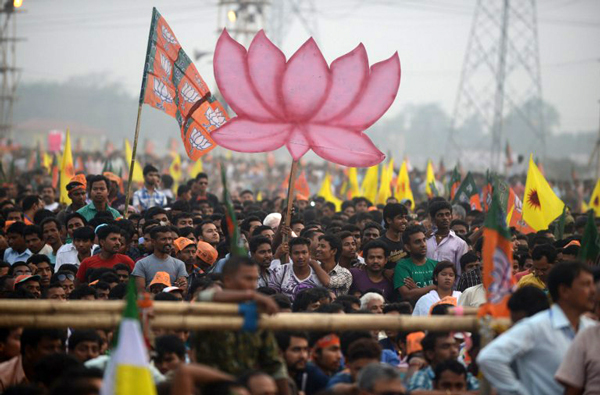 Photo: Diptendu Dutta/AFP
This phase will also see some key contestants
In Narayangarh, TMC though ahead since 2011, takes on Suryakanta Mishra, the leader of opposition and the CPI(M) state secretary.
Suryakanta Mishra, age 66, former Panchayati Raj and health minister of the state, was given the choice of contesting from a safe seat, but he chose to fight from his home turf. His opponent, Pradhyot Ghosh of TMC has already faced some ire from the local party for being an outsider.
He is also being projected as the chief ministerial candidate.
In Kharagpur Sadar, Gyan Singh Sohanpal, age 91, and a ten-time MLA of the Congress will find it difficult this time to take on Dilip Ghosh, state secretary of the BJP, and Ramprasad Tiwari of the TMC.
Also read: How 'coach' Mamata has made it tough for Bhaichung Bhutia to score a goal
By 2014 Lok Sabha elections, BJP had won this seat. The constituency has a strong non- bengali voter base and prime minister Narendra Modi started his campaign in Bengal from this seat.
If the Left and Congress vote together, this seat is surely going to see a tight contest.
In Sabang, Manas Bhunia, age 63, the former Pradesh Congress Committee chief and a former minister is the clear favourite. He was the MLA in this seat from 1982 to 1996 and then again from 2001 onwards.
He was initially against the people's alliance between CPI(M) and Congress and even met party chief Sonia Gandhi personally, to deter the alliance. However, he has succumbed to the pressure and is sure to win this seat.
Significantly, about seven years back he was attacked by CPIM(M) supporters in Burdwan. And television footage of Manas Bhunia running barefoot,with his dhoti rolled up had become a chilling witness of political violence in the state.
The TMC in all its campaigns is trying to discredit Bhunia based on the footage of the day. The point being- how could the Left become his partner?
In Barjora, actor Soham Chakraborty will be contesting on a TMC ticket. He has no prior experience in politics and it will be a close contest, if you go by the voting pattern of 2011 and 2014.
He is in the peak of his career in Tollywood commercial films, and it will be keenly watched if he wins and is serious in politics. Unfortunately, all the film stars who have won on TMC tickets in the past elections, are allegedly missing from their constituencies.
Going by reports, tally improvement in the region will not be an easy task for the TMC. Mamata Banerjee has four challenges – the clubbed vote bank of CPM and Congress, the organisational strength of the Left in West Midnapore and parts of Burdwan, and the BJP and her party's infighting in Asansol.
Edited by Anna Verghese
More from West Bengal:
Welcome to Bengal's theatre of the absurd: featuring Mamata, Amit Shah and others
Sentiments should not decide our votes, says Kharagpur's Ram Laxmi
West Bengal: Left-Congress tie-up makes sense at every level. But can they win?