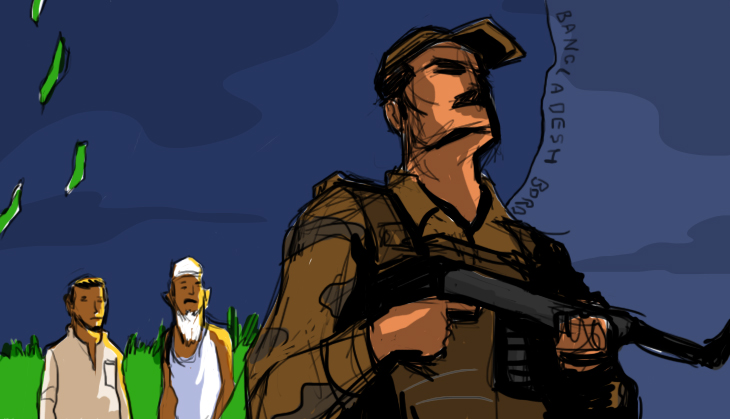 The area
Malda district shares more than 100 km of international borders with Bangladesh
According to the NIA, it is the hub of fake currency, opium trade and arms smuggling
The constituents
The people of the Baishnabnagar constituency suffer from abject poverty and unemployment
The border fencing has taken away a lot of land, and people resort to illegal means to make a quick buck
More in the story
Why the BJP could be a factor in this Muslim majority are
People of the constituency narrate tales of woe and BSF/police atrocities
West Bengal's Malda district shares more than 100 km of international borders with Bangladesh. According to the National Investigation Agency, it is the hub of fake currency. There is also a booming trade in opium and arms smuggling.
But spare a thought for the common people living in these areas - what do they want from the political parties? What, to them, is the meaning of elections? What are the biggest issues for them?
The answers, unfortunately, lie in a complex web of political apathy, poverty and unemployment.
Catch travelled to the border villages of Mohabbatpur, Shashani and Chakmilepur, which fall under the Baishnabnagar constituency. We found that the loss of farming area and the 'atrocities' of the BSF and the police are major problems that dominate the discourse.
The worst part is that those living in these villages seem to have resigned to their fate, and have no expectations from political parties. The only option left for them is to get sucked into the 'business' that can make you a quick buck.
Restricted movement and elusive lunch
Lal Mohammad Mian, about 60, lives in Chakmilepur, a village which has just about 150 voters. The village is at the edge of the border fence (about 20 metres behind any of the houses).
Mian speaks calmly, and lists out the major issues he faces today:
He lost about a 150-metre strip of farm land due to fencing by the BSF.
He cannot afford to buy land elsewhere, because he's poor.
He cannot sell the plot of land that he presently owns due to its location.
The iron gates are opened at 9am for people to go inside and cultivate their land for two hours. Ideally, he says, they should be opened at 6am, otherwise it gets too late for him to have his lunch.
Each and every step is monitored by the BSF.
Many a time, his yields are cut by Bangladeshis at night, to be used as cow fodder.
Crops above a certain height are banned, because that increases camouflage, and thus, the risk of infiltration.
Asked if the local parties had helped the villagers with any of these issues, he said that Bishwanath Ghosh, the CPI(M) MLA in the area from 2006-11, had started a dialogue with the administration, which is what led to the decision to open the gates. But there has not been much movement since then.
The women of the village list out another major problem their children face.
"The mid-day meal scheme has been irregular. Local schools do not admit students from our village citing the lack of seats, and politicians never visit us," says Hasina Bibi.
The sitting MLA is Isha Khan Choudhury, son of Congress MP Abu Hasem Choudhury. In the past five years, the villagers have seen Isha just once, when there was a fire in the village. Eventually, the villagers themselves had to rebuild the damaged portions.
Interestingly, Isha has decided to contest from the Sujapur constituency this time. This is the traditional seat of the Choudhury family since the time of its patriarch, ABA Ghani Khan Choudhury, and is considered a 'safe seat'.
How 'illiterates and idiots' earn
Shashani is a place know for opium cultivation and fake currency. The marketplace is full of groups of men playing cards. This place has about 2,900 voters.
We meet Sadiq Ali, a man who claimed to be 30, but is clearly not. He says political parties come and go during the elections, and there is no political rift among villagers. There is political and communal harmony.
Soon, others gather around and start narrating tales of false cases and random pick-ups by the police, the NIA and the BSF.
"Less than 1% of the people here work. That too, they work as construction labourers in Delhi and Mumbai, and often come back unpaid, cheated. The women make bidis. The rest, especially the illiterates and the idiots, do 'currency'," says Ali.
He ends with a grand statement: "Currency korchhe, bujhche na desh ke noshto korchhe (they do 'currency', but they don't realise that they're destroying the country)."
Another local says on the condition of anonymity: "Fake currency is seen like a business out here, just like trade in sugar, rice and wheat. Being poor, with no jobs, and losing farm land, they get lured into such activities. They are given Rs 300 or so, and their duty is probably to throw a small plastic packet, or a box, at a specific location across the border." He also shows us vast tracts of land that were under poppy cultivation till February.
The people of Shashani estimate that about 250 bighas of land, belonging to 70-80 people, and worth crores of rupees, has been lost due to the fencing problem. But this problem seems to have taken a back seat here, and the business of 'currency' has gained ground.
(Later, in Malda town, Catch asked a senior police inspector about these statements from the people of Shashani. His response was that it's complete bulls*#$.)
Gasp! The BJP could win?
While in Shashani, one Subal Saha appears at the tea stall and everyone says "look, here is our Narendra Modi". They break out into peals of laughter. On being asked if he is a BJP voter, the others reply: "No, he owns a tea stall."
When 'desh ke noshto korche' is at the forefront of the public consciousness, the BJP and its brand of nationalism cannot be far behind. Some suggest that the BJP may also win the Baishnabnagar seat. There is a clear consolidation among the Hindus (who are in a minority here), and some told me that the RSS has been sending sadhus to preach in the border areas.
No one we met seems to have personally attended those programmes. Everyone seems to know of it, but no one has seen it.
BJP has fielded Swadhin Kumar Sarkar, a son of the soil, who, according to his affidavit, is employed in agriculture. His banners and posters are visible, but during the five hours we spent in Shashani, we never came across a single BJP supporter, nor the candidate himself, nor even a campaign vehicle.
Significantly, Malda and Murshidabad districts have a traditional base of hardcore Hindu voters in the border areas. This can be traced to history, when the Hindu Mahasabha fought hard to keep these two districts in India.
'Why haven't you come here before'?
We also ran into TMC candidate Asit Baran Basu, by accident. There was a puja going on in a temple on our way to Mohabbatpur, and he stopped his car in the middle of the narrow village road, creating a traffic snarl as he went to offer prayers.
Our local contact couldn't help but quip: "Even the TMC knows the importance of a Hindu candidate in this belt."
Basu's supporters say he is a businessman, while he himself says he is the former chairman of the state Bar Council.
He blames the Congress for all the perils. But as if on cue, farmer Jahar Ali, who was busy dredging a nearby pond, walks up to him and says: "Are you the TMC candidate? Why didn't you come to our village all these days?"
Basu doesn't seem to have an answer, and decides to ignore Ali by jumping on to his vehicle. Ali turns to this reporter and says with a wry smile: "TMC had offered to build us homes. But we never got them. My village has 600 voters, and I control one-fourth of them."
Like in all the districts of Malda, the TMC looks sure to lose, and Basu seems to be aware of the fate in store for him.
Edited by Shreyas Sharma