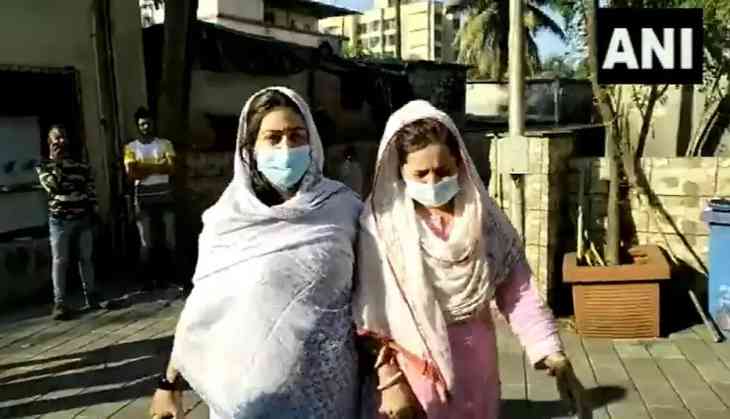 Sheezan's family at crematorium in Mira Road
The mortal remains of television actress Tunisha Sharma were brought to a cremation ground in Mumbai's Mira Road area for last rites on December 27. Her family and friends were present at the crematorium to pay their last respects to the 20-year-old actress.
Tunisia's boyfriend and her Ali Baba Dastaan-E-Kabul co-star, Sheezan Khan had broken up with her weeks before her demise. He was arrested on December 25 on charges of abatement of suicide. The actor was later sent to four-day police custody by Vasai Court.
Khan was arrested in response to Tunisha's mother Vanita Sharma's FIR, who alleged that the actor cheated on her daughter due to which she committed suicide.
Watch here.
#WATCH | Mumbai: Actress Tunisha Sharma's mortal remains were brought to a crematorium ground in the Mira Road area for last rites pic.twitter.com/NUL5Pv5Om4

— ANI (@ANI) December 27, 2022
Sheezan's mother and sister also arrived at the crematorium ground to attend the last rites of Tunisha Sharma.
According to police, the actor is being interrogated again because he "keeps changing his statement." Ever since the shocking death of the 20-year-old actress on December 24, her family leveled serious allegations against her co-star Sheezan Khan.
#WATCH | TV actor Tunisha Sharma death case | Sister and mother of accused Sheezan Khan also arrived at the crematorium ground in Mira Road area for her last rites. pic.twitter.com/HA0voEOwQr

— ANI (@ANI) December 27, 2022
Yesterday, Vanita Sharma alleged that Sheezan cheated on her daughter and had other affairs while dating her. She demanded stringent punishment for Sheezan Khan.
"Sheezan cheated Tunisha, he was involved with some other girl but despite that, he was with Tunisha. Sheezan should not be spared, he should be punished," said Vanita Sharma.
Also Read: Sheezan 'cheated' on my daughter: Tunisha's mother
The 20-year-old actress allegedly hanged herself in a make-up room on the set of a TV show in Naigaon on Saturday. Following the death, Vanita Sharma filed a complaint against Sheezan, after which the Waliv police arrested the actor under Section 306 (abetment of suicide) of the Indian Penal Code.
Both the actors were in a relationship but for the past few days there was a trouble between them. Recently, the deceased actor's mother revealed that she has an anxiety attack and was hospitalized 9-10 days ago.
Police are investigating the matter from all angles.