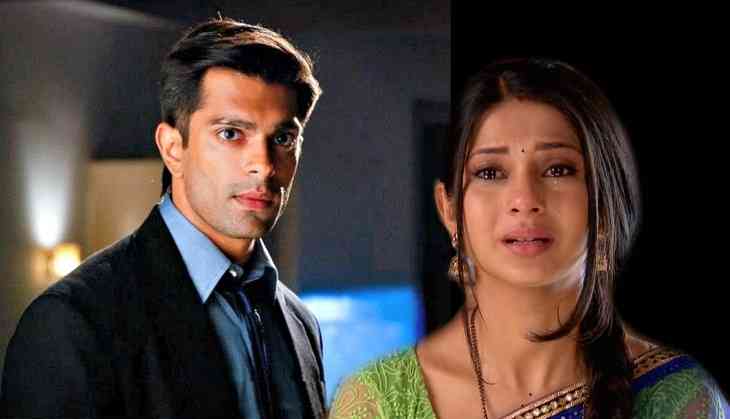 TV actress, Jennifer Winget is undoubtedly one of the most popular, beautiful and loved actress of the small screen and the love that she gets f,rom her fans is the proof. Every now and then she keeps on uploading pictures on the social media account and the likes and comments on her pictures are a proof. She is currently playing the role of Zoya in Colors TV show Bepannah and is receiving a tremendous amount of love from the audience.
Jennifer is celebrating her 33rd birthday today and on the auspicious occasion of her birthday, we will reveal the real reason why her personal life has not been that good. Her unsuccessful married life with Bollywood actor Karan Singh Grover is not an unknown factor as the topic of their broken marriage became a hot topic of discussion.
Their controversial marriage grabbed the attention of many since they were one of the most loved couples of the small screen. When the news of their divorce came, people went into shock because they have been seeing them together from their show Dil Mill Gaaye. A lot of speculations about the reason behind their broken marriage started doing rounds but no certain reason was given.
ALSO READ: Happy Birthday Jennifer Winget: This special person in Bepannah actress' life got the first bite of her cake; see video
Jennifer and Karan's marriage picture
Jennifer's personal life has been full of ups and downs and the reason is probably her unsuccessful personal life with Karan SinghGrover. With Jennifer, it was Karan's second marriage and they got married in the year 2012 but soon the news of their separation started doing rounds in the year 2014.
A lot of reports stating the reason behind their separation did rounds on the internet and one amongst those which was being called the main reason was Karan's attitude in the marriage. There are only a few people who know the exact reason behind their split and we have it for you.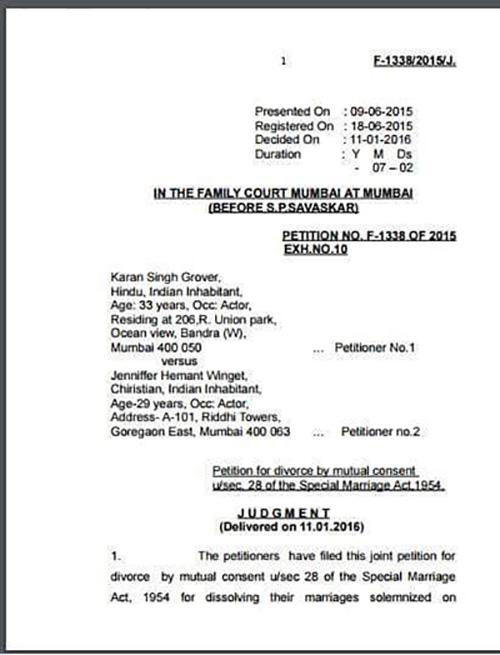 Jennifer and Karan's divorce papers
These reports started doing rounds during the time when Jennifer and Karan were heading out for a divorce and claimed that a close friend of the couple has opened up about the reason behind theirKran divorce and said that Karan's nature was like that of a lover and playboy and that is the reason why he doesn't want to live tied up in a relationship. Once Jennifer also started living separately after she got irritated with Karan's attitude because she doesn't wanted others to know about the trouble that their marriage is facing.
ALSO READ: Here's what Jennifer Winget and ex-husband Karan Singh Grover have to say about the future of their son post their divorce
It was also said that Jennifer did whatever she could to save her marriage, maybe that's why once during an interview she said that she has given her 500% in her marriage and that is why noone can arise any question or claim on her. It was said that Karan has made it clear to Jennifer that he doesn't believe in the idea of marriages and wants to fly like a free bird.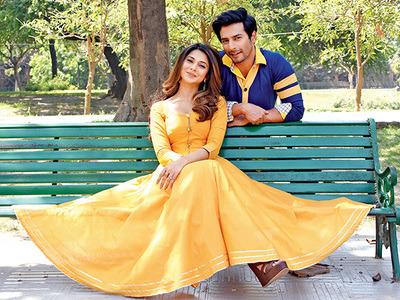 Jennifer and alleged boyfriend Sehban Azim
Karan and Bipasha Basu

Well, if these reports are true then we are clear about the fact about why the got separated. On one hand where Karan has moved on in his life and has married Bipasha Basu, Jennifer is also doing great in her professional life and is happy being single. However, her name is constantly being joined with her co-actor Sehban Azim but they have denied dating each other.
ALSO READ: OMG! Bepannah actress Jennifer Winget to get married again soon?
We wish the actress a very happy birthday and hope for the best for her.