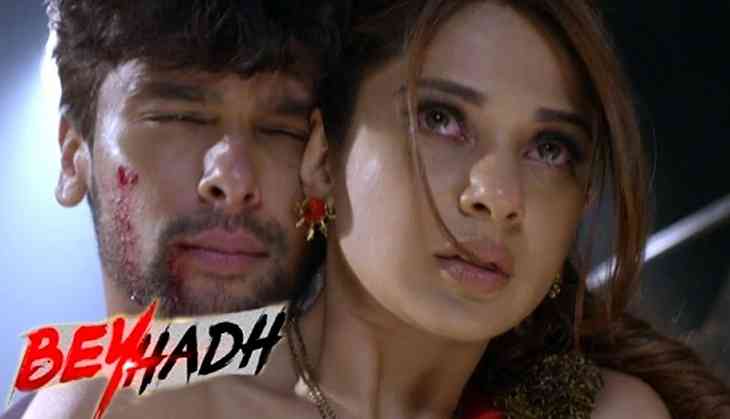 Popular daily soap of Television Beyhadh that used to telecast on Sony TV went off AIR a few days back. The's lead cast included popular TV actress, Jennifer Winget, Kushal Tandon and Aneri Vajani.
The cast and crew of the show celebrated during the last days of the show and Kushal even throwed a party for everyone. However, Jennifer was missing from the treat as she had gone to Budapest for a vacation.
ALSO READ: Beyhadh: Jennifer Winget opens up about her plans post the show
Now, as per reports by India TV, the popular show will return back on the small screen with a new season. The show's new season will go on AIR by next year. This news will surely bring back that smile on the fans' face who were disappointed with the show going off-air.
The lead actors of the show Jennifer Winget (who played the role of Maya) and Kushal Tandon (who played the role of Arjun) in the show, posted a heartfelt message on their social media account for the show and their fans.
Jennifer took to her Instagram account and shared a video along with a post that read, "...and so the curtain closes on Beyhadh! A parting so bittersweet, that I couldn't stay to be in the same country as everyone says bye to it. 😊😇 Thank you to my Amita, Prateik, Radhika - etched is the day you guys walked in with Maya, my character of a lifetime. For that I'll be forever grateful to you. Beyhadh ends, but it's definitely not the end for Maya, I'm taking her with me for keeps! Thank you to all my fans, friends, peers within the industry for reassuring my decision of taking up this off track role; consistently encouraging and recognizing the hard work!!🙏🏻🙏🏻 Mr. Danish Khan and Mr. Mehta, we did good! No Wait, we nailed it - start to finish! To my writers Radhika, Shilpa and Priya, you are geniuses at what you do and should take credit for making Maya a force to reckon with. Amita, my love, this is only the beginning and without you Maya would not have looked so perpetually immaculate yet hot, both at the same time, in white. Prateek, know we've had our fair share of disagreements but the passion with which you conceive things is commendable; unmatched. Onto realising bigger dreams! To my co-cast: @therealkushaltandon It has been a rollercoaster ride with you by my side but I have enjoyed every bit of it; not sure every mad side of you, though! Stay crazy and humble and good luck with what ever's lined up next. You bring epic! @vajanianeri - You know you are our chota rocket and I loved every bit of our time sharing scenes, food and vanity chatter. Your energy and loving nature is infectious !! Badu sends you a big hug and a kiss. Always here! @kavita_ghai - K, you know I love you and I know that I've found in you a friend for life!!❤ Rajeshji @rajesh_khattar, Vibha, Swatiji, Sumit - It doesnt get any better than you! You have all been the best team to work with. I have learnt so much more from just sharing screen space with you. Thank you for the lessons and the memories🙏🏻"
ALSO READ: Why is Jennifer Winget missing from Beyhadh's post wrap-up party?
Check it out:
Kushal too took to his Instagram account account and posted a picture along with a caption that read, "Good bye from arjun , c u all beyhadh soon !#beyhadh ❤"
Check it out:
ALSO READ: Here's how Beyhadh actress Jennifer Winget surprised her fans again
Beyhadh was a psychological thriller in which Jennifer played the role of a pyschopath lover who can go to any extend to get his love back. Kushal played the role of Jennifer's lover in the show. Earlier the show was supposed to go off-air in the month of August but the show got an extension till October.