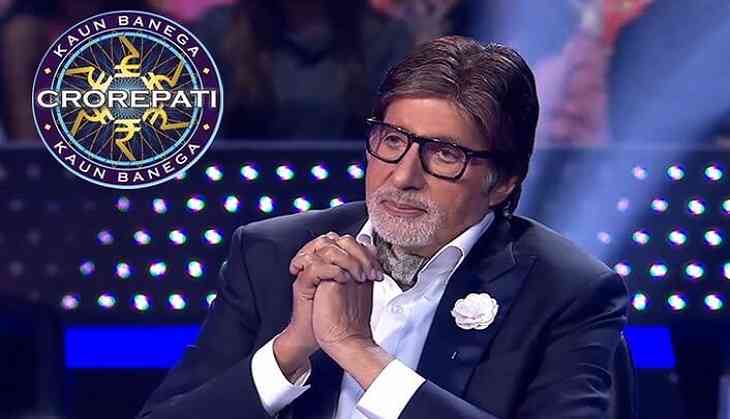 Big trouble for 'Kaun Banega Crorepati' after Amitabh Bachchan asked a question in last week's Karamveer special episode.
During the special episode, Big B posed a question before social activist Bezwada Wilson and actor Anup Soni. The question was related to Manusmriti which was not go down well with the netizens.
A section of social media users slammed Amitabh Bachchan and makers for hurting Hindu sentiments.
An FIR has also been filed in Lucknow against Amitabh Bachchan and KBC 12 makers.
Know what was the question:
Anup Soni and Bezwada Wilson were playing for Rs 6,40,000 and Big B asked:
25 December 1927, Dr BR Ambedkar and his followers burned copies of which scripture?
Options: (A) Vishnu Purana (B) Bhagavad Gita, (C) Rigdev (D) Manusmriti
The correct answer to the question was Manusmriti. The duo answered it correctly and won the amount.
Amitabh Bachchan also explained to them that Dr BR Ambedkar condemned the ancient Hindu text Manusmriti and also burned copies of it.
Netizens got infuriated over this explanation by Big B. Several social media users also voiced to boycott the show.
"#BoycottKBC -- KBC should rename its show as 'Kaun Banega Communist'," read a tweet.
Check out how Twitterati reacted:
#BoycottKBC
If you want to see kbc to get knowledge, then read the Bhagavad Gita better or bring some general knowledge book.@SrBachchan#BoycottKBC pic.twitter.com/5cJx2t7b99

— नितिन शर्मा🇮🇳 (@NitinSharmaNiku) October 31, 2020
I m writing with @TheBrandAnuj#BoycottKBC pic.twitter.com/8kTi8Vbrbe

— Pandit Rithik raina (Rûdra) (@RithikRaina6) October 31, 2020
All Hindus should burn the Manusmriti from their hearts & societies.

The scripture which legalised discrimination,exploitation & inhuman treatment shouldn't be allowed in the present day society.#BoycottKBC is actually boycott general knowledge!

Grow up.

Stop discrimination. pic.twitter.com/QPpe1hfY2R

— Dr. Bharatashree V M (@Bharatashree) November 1, 2020
Mr. Bachchan, when will you ask questions like halala, triple talaq? #BoycottKBC@PrayagrajWale pic.twitter.com/ghCQJDHCRr

— पिंकी शुक्ला (@shuklapinkii) October 31, 2020
#BoycottKBC #BoycottBollywood #boycottsonytv shame on the makers of the show, shame on so called legendary actor amitabh bachchan (idiots of Bollywood) more ovr shame on all those ppl who r still in support of these actors.. India is undr organized religious attack...Jaago.Jagao pic.twitter.com/widduCwoMz

— Rakesh (@Rakeshrajumysur) November 3, 2020
What the hell is going in KBC, Amitabh bachchan is really biggest mahanalayak of the millennium.

Showing terrorists as leader, glorifying rioters, now asking question against hinduism is exposing the agenda.#BoycottKBC @hinduPS @prashasksamiti pic.twitter.com/uHDCmClDen

— ♕भगवा🧡ट्विटर♕#प्रशासक_समिति✊🚩 (@hinduPS) October 31, 2020
Meanwhile, Amitabh Bachchan is hosting the 12th season of Kaun Banega Crorepati.