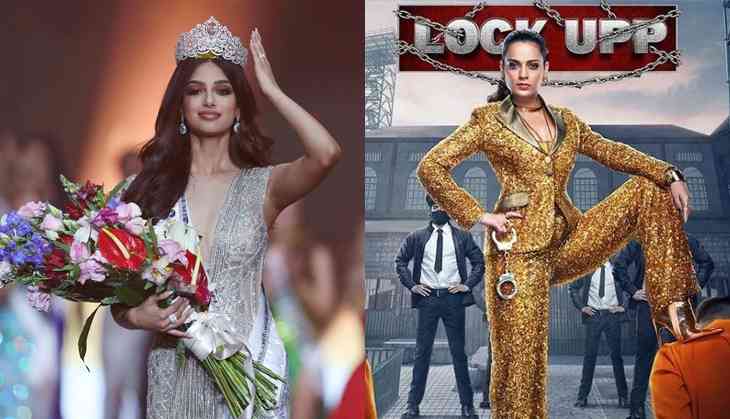 Know who designed Miss Universe 2021 gown for Harnaaz Sandhu
Ekta Kapoor's show Lock Upp, which is hosted by actor Kangana Ranaut, has become the talk of the town for its controversial contestants who have been put together in a lock-up for months. The first season of the Indian reality tv series is currently streaming on MXPlayer and ALTBalaji.
You will be amused to know that one of the contestants from the show has a connection with Harnaaz Sandhu, who brought the Miss Universe 2021 crown back to India after 21 years.
Also Read: Lock Upp: Kangana Ranaut reacts to Zeeshan Khan threatening, hitting Azma Fallah [Watch]

After winning the beauty pageant at an event held at the Universe Dome in Eilat, Israel, Harnaaz inspired many girls to stand for themselves and urged them to keep striving for their dreams.
The gorgeous gown that she wore on her victory day was designed by transgender designer Saisha Shinde, a contestant on Kangana Ranaut's show.


Earlier this year in January, formerly Swapnil Shinde, came out as a transwoman. She even shared her toughest transition journey on social media and revealed the struggles she faced all her life as a trans person.
Many Bollywood stars and designers came out in support of her.
Shaisha also shared the details about the embellished gown worn by Harnaaz Sandhu.
"The gown is embellished with embroidery, stones, and sequins. Harnaaz believes in sustainability, so we used embroidery material that was lying around at the studio. Also, since she is from Punjab, we incorporated phulkari-inspired motifs in the ensemble. The geometric patterns which are synonymous with the phulkari patterns are given a modern twist," Saisha said.
Soon after the big win, Saisha also shared the picture of Harnaaz Sandhu on Instagram and wrote, "We did it." Surely, the designer was as happy and proud as the entire country."
Talking about the show, Saisha got evicted from the show after she argued with host Kangana Ranaut. However, after coming out of the show, the designer said she has no grudges against the actor. On the other hand, she was embarrassed at her behavior.
Later, she penned an apology note for Kangana and her fans on social media and re-entered the show.
In the recent episode, Kaaranvir Bohra and Saisha Shinde got involved into heated argument after the actor made fun of the designer for her breast implants.
Also Read: Lock Upp: Mandana Karimi strongly reacts after Ali Merchant calls her gold-digger