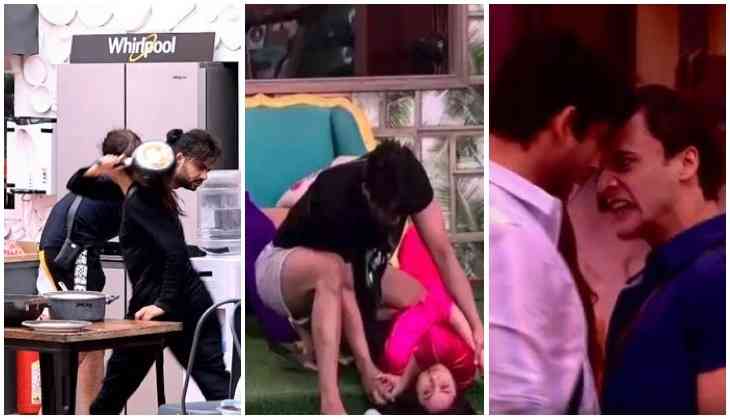 Colors most controversial show Bigg Boss 13 is just a few hours away to telecast its finale and to come to an end. The show's journey was no less than a rollercoaster ride where we saw romance, aggression, comedy going hand in hand. For the first time is in comparison to all the seasons the tedha season saw "tedhi ladai," throughout the season we have seen contestants fighting over food. Even Salman Khan in one of the Weekend Ka Vaar said that this is the first season where they are seen contestants gaining weight and all the time fighting on food.
Same way in this season we have seen many ugly and tedhi fights, so here we are with top 6 controversial fight that hit the headlines and also raised the TRP of BB 13.
1. Vishal Aditya Singh-Madhurima Tuli's Pan Fight
The most talked-about fight wherein Madhurima hit Vishal with the frying pan on his bums. Owing to this behaviour she even got evicted from the house. The fight started when Vishal asked lazy Madhu to do the household chores and when she didn't listen to him Vishal threw water on her. This made her fume in anger and in a fit of rage she committed a heinous act. See the video below:
2. Snake n Ladder Task becoming Character Assassination task
Well, this was the dirtiest fight ever happened in BB 13, opposition group including Devoleena, Shefali Bagga, Siddharth Dey, Mahira Sharma pointing figures at Shehnaaz's character. They all called her characterless when she supported Sidharth Shukla. In a fit of rage Devoleena even slapped Shehnaaz for pouring water on her. See video below:
Also Read: Bigg Boss 13 Finale: Rashami Desai out of top 3 race
3. Jai-Veeru becoming Thakur and Gabbar
Sidharth and Asim's Jodi was loved by all and was also termed as Jai-Veeru of BB 13, however, soon everything came to an end when the two had an ugly fight during the truck task. From 'brother' they become staunch enemies and till date they share cold vibes.
4. Sidharth-Shehnaaz cute banter became controversial
As we all know a while ago Sidharth was being criticised by all the women out there for pinning down Shehnaaz on the floor, slapping and beating her badly. However, while pointing figures on Sid they forgot that Shehnaaz started with all of this and was repeatedly poking him either she use to slap him or beat him. But soon Salman came to their rescue and revealed that when Sid was pinning Shehnaaz on the floor they were not fighting rather Sid was a warning. See the video below:
Also Read: Bigg Boss 13 Finale: Sidharth Shukla, Asim Riaz, Rashami Desai likely to get 'free paid' trip to Dubai
5. Sidharth to Rashami 'teri jaisi ladki'
The ugliest fight of BB 13 which enhanced the TRP rates of the show, the show which was at the 10th position immediately debut in top 5 chart. The ugliest fight where during the task Sidharth said to Rashami "teri jaisi ladkiyon ko mai bohot acvhey sai janta huin." This teri jaisi ladki didn't go down well with Rashami and during Weekend Ka Vaar she sought Salman's help to clear this remark. For the first time, Salman also ashed out at Sidharth and asked her to apologize. See the video below:
Meanwhile, today we will see Sidharth and Rashami performing on Aang la ga de re song from Gooliyon Ki Rasleela. Also, we will get to see Asim and Sidharth's face of battle wherein they will groove on Tanhaji's track.
Also Read: Sidharth Shukla war of words with Arjun Kapoor on Khatron Ke Khiladi set