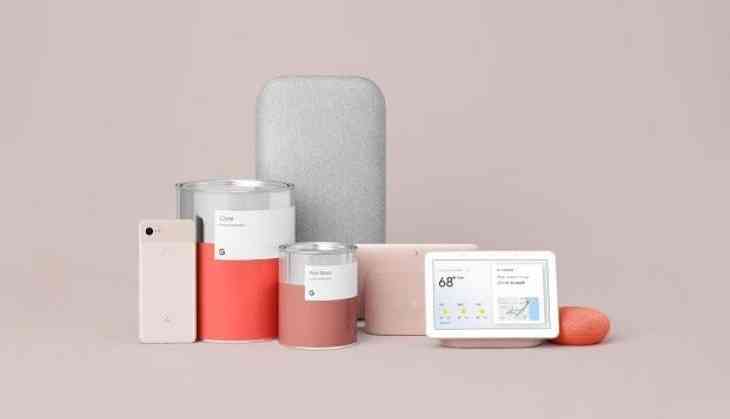 Though sales of its devices have been slow, the search giant unveiled the Pixel 3, a smart speaker with a built-in screen and a tablet that doubles as a PC.
For much of the last decade, Apple and Samsung have dominated sales of smartphones. So why would anyone bother trying to sell a new phone?

That hasn't dissuaded Google. The company on Tuesday unveiled new versions of its Pixel smartphone, which is a high-end challenger to Apple's iPhone and Samsung's Galaxy phones. It also introduced a smart speaker with a built-in display and a laptop that doubles as a tablet, in response to products from Amazon and Microsoft.
The gadgets are Google's third wave since it started making consumer devices in 2016. The internet company has pushed these products as a way to showcase its prowess in areas like artificial intelligence and image processing.
Yet the efforts have not had a meaningful impact on Google's sales or market share. For a company that makes most of its money selling advertising next to search results, the hardware increasingly appears to be an expensive hobby. One of its biggest hits thus far is a Google-branded wireless router, which is too much of a niche product to serve as the foundation of a hardware strategy.
"There's some skepticism about how committed Google is," said Carolina Milanesi, an analyst for Creative Strategies, a consumer electronics research firm. "They are still nowhere near where they need to be to make a dent in the industry."
Google has said that hardware businesses rarely become overnight successes and that it remains focused on the long term. The company said it put more stock in indicators like high customer satisfaction in its effort to build a loyal base. Google doesn't break out revenue or profit for its hardware business.
The search giant is also starting to spend heavily on the hardware business. Last year, it used an advertising blitz to promote its new products over the holidays. In January, it closed a $1.1 billion deal to acquire most of HTC's smartphone design unit, with more than 2,000 HTC engineers moving to Google. A month later, Google's hardware business absorbed Nest, which makes smart home appliances and previously functioned as a separate subsidiary.
While the handset market is no longer growing as much as it did five years ago, the company wants Pixel to be a blockbuster and to set the bar for devices running Android, Google's mobile operating system, said Mario Queiroz, Google's vice president of Pixel hardware.
"It is our objective to sell as many Pixel phones as we can," he said in an interview. "We're investing accordingly to be able to do that."
Here's a closer look at Google's newest devices.
Pixel 3 and Pixel 3 XL
Similar to the latest iPhones and Samsung phones, the new Pixel 3 phones, which will become available on Oct. 18, have glass bodies to support wireless power charging. The technology relies on magnetic induction, which involves using an electrical current to generate a magnetic field to create voltage that powers the phone.
Yet the screens are smaller than those of Pixel's competitors: The $799 model has a 5.5-inch screen, while the $899 model, the Pixel 3 XL, has a 6.3-inch screen. For comparison, Apple's new iPhone screens range from 5.8 to 6.5 inches diagonally, and the Samsung Galaxy screens measure 5.8 to 6.4 inches.
The new Pixels also have a feature to make it easier to take good photos. The tool, Top Shot, captures a series of images when someone takes a photo; Google uses algorithms to recommend the best photo among the shots. Computers analyze millions of images to extrapolate the characteristics of a good photo, like smiles and clear faces. The analysis of the photos is done on the Pixel 3, not in Google's cloud; users will see a small chip icon marking the recommended photo.
The new Pixels also include a call-screening feature to fend off robocalls. When a call comes in from an unfamiliar number, the Pixel owner can tap a button to screen the call. An automated message will ask the caller to state his or her name and purpose for calling. From there, the user can receive a transcription of the caller's response and decide whether to take the call. Though this process may sound time consuming, it's one of the first solutions from a device maker to combat robocalls.
Home Hub and Pixel Slate
Joining a trend of smart speakers incorporating displays, Google's newest Home speaker has a built-in seven-inch screen. The $149 device, Google Home Hub, will go on sale on Oct. 22.
Similar to the Amazon Echo, the Home Hub responds to voice commands. People summon it by saying "Hey, Google" before asking a question or speaking a command, like "What's the weather in New York?"
People can use the Home Hub's screen to watch videos and control smart home devices like security cameras. Notably, the Home Hub, unlike Amazon's smart screen products, lacks a camera for video conferencing. Google said it had made that decision partly because of privacy concerns inside the home, especially bedrooms.
The company's third new product, the Pixel Slate, is a convertible laptop, like a tablet with a removable keyboard similar to Microsoft's Surface. It runs Google's ChromeOS operating system and works with a digital stylus for drawing and writing. The device, which the company said would become available later this year, starts at $599.
Mr. Queiroz said Google is just at the beginning of its hardware ambitions.
"Manufacturing and hardware are things that you build up over time, so we're very proud of where we are after three years compared to people who have been doing it for 10 years or longer," he said.
-IANS