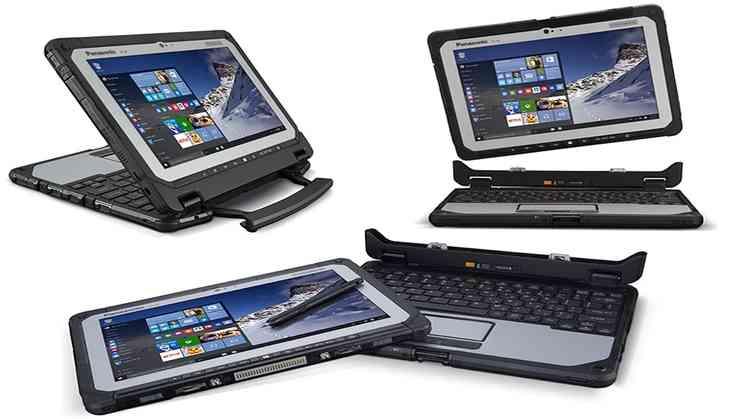 What would you consider while buying a rugged laptop? Wait, you want to know what a rugged laptop is? OK, in short, a rugged laptop is the Sunny Deol of laptops, especially in his Gadar-esque mood. The elaborate answer would be, a rough and tough laptop which is specially designed to function is extreme conditions, harsh weather and is pretty much immune to the common physical damages.
So, again, what would you consider while buying a rugged laptop?
Yes, yes, processor, RAM, storage, display size but there are other more important features to consider. I will help you, my friend in distress. Here is my so-called "Ultimate Beginner's Guide to Buying a Rugged Laptop in India," an ebook of $20, completely free for you (and no, I wouldn't ask you to sign up for my newsletters as I don't send out any).
There are 5 features of a laptop you should consider when buying an industrial laptop aka rugged laptop. Without prolonging the already long prologue, here we go.
Ruggedness: But obvious! You would buy a rugged laptop only if it is rugged enough. The laptop should have enough protection against every type of physical damage including drop, shock, water, dust, extreme temperature, and even magnetic fields. Not only it should withstand those forces, but it should be properly operable in those conditions as well. Which means the laptop should have strong body, (preferably) IP65 certification and SSD to avoid magnetic interference with the traditional hard disk.

Easy Operability: It should be operable under extreme conditions. Moreover, with the advent of convertible laptops, it would be the icing on the cake if the laptop screen is detachable to make it a tablet instantly. In this case, the input can be via touch and keyboard, both.

Connectivity: As rugged laptops or industrial laptops or business laptops (whatever you call it) need to work with more devices than pen drives, only a few USB ports are not enough. There should be enough number of different ports to support different industrial devices and interfaces, even those interfaces which are a legacy interface for the computer world now. Secondly, it should have inbuilt data/internet connectivity via 3G/4G modem, so it is operable at remote locations without any added dongles.

Processing Power: I can see the smirk on your face finally. Yes, the laptop should have enough processing power to handle the most demanding industrial applications. All the ruggedness doesn't amount to anything if the laptop doesn't perform. The usual features, fast processors, ample RAM, reliable storage are all important. In rugged laptops, the display is also important because often you would be working outside and the display should be visible properly even in sunlight and operable under the rain as well.

Security: Not the physical security but the internal security of the laptop is important as business laptops carry confidential data and files. There should be different levels of security, but the best solution is when a manufacturer integrates a specific hardware for complete security. Layered permission level can help the same laptop to be used by different employees. Modern features like fingerprint sensor would be the icing on the cake. But please don't forget the good old Kensington lock.
I don't generally recommend a product because they don't pay me. Bad joke. I don't recommend because I feel you need the guidance, not a sales pitch. However, let's make an exception because the merit of Panasonic Toughbook CF-20 deserves one. Yes, I would strongly recommend that you go for this model. Why? Not only because it scores high marks on all these mentioned features but calling it the best business laptop in India wouldn't be an exaggeration.
Panasonic CF-20 has the best-rugged body among all the competitors. It can resist drop, shock, vibration, rain, dust, sand, altitude, freeze/thaw, high/low temperature, temperature shock, solar radiation, salt fog, humidity, explosive atmosphere because it is MIL-STD-810G and MIL-STD-461F certified. It also has an IP65 certification which is the best water-dust protection standard in the world.
Panasonic CF-20 can be operated as a laptop and as a tablet because it has a hybrid design. Use it as a laptop and use the keyboard or make it a tablet and carry around.
It has great connectivity because not only you can use a keyboard or use the touchscreen (even under rain, with a gloved finger) but it has fully built-in 4G modem, GPS tracking, Bluetooth, and Wi-Fi. You can operate almost every business application because of the multiple ports it has, apart from USB ports. It can even read smartcard, magstripe, smartcard or contactless NFC.
Coming to the security, Panasonic Toughbook has a dedicated hardware, trusted platform module (TPM) security chip and BIOS level Security which is almost impossible to overcome. Then there are separate layers of passwords, and you can even use your fingerprint to lock the device.
Finally, your first interest. Yes, it runs on Intel Core m5-6Y57 vPro 2.8 GHz processor, and you can have up to 16GB SDRAM (DDR3L – 1600MHz). Store all your data on the SSD (not your traditional HDD) which can be as big as 512GB.
No wonder that I broke free from my style of not recommending any product in particular. This is certainly the best-rugged laptop in India right now, and I would suggest that you make this investment if you have the need.