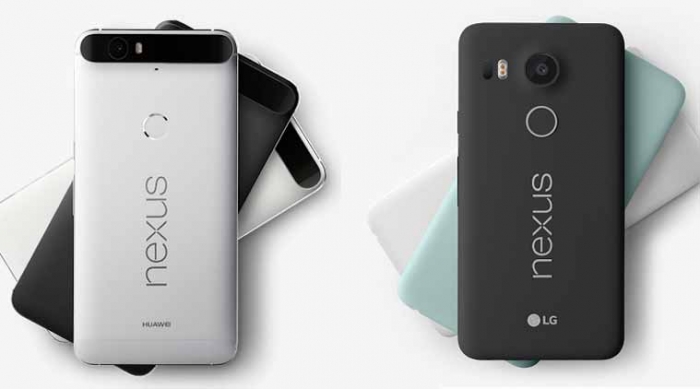 Google India today launched one of the most anticipated devices of the year- Nexus phones. Google has partnered with leading smartphone makers like Huawei and LG to manufacture the latest Nexus smartphones.
Latest Nexus devices
Google launched LG Nexus 5X and Huawei Nexus 6P; both the devices run on Android Marshmallow 6.0. Nexus 5X is priced at Rs 31,900 for the base model, the 16 GB variant, and Rs 35,900 for the 32 GB model. The Nexus 6P is available at Rs 39,999 (32GB) and Rs 42,999 (64 GB) in India. The smartphones are up for pre-order on Flipkart and Amazon from 21 October onwards.
The 128GB variants of Nexus 5X and Nexus 6P are not launched in India.
David Shapiro, Global Director of Chrome and Android Marketing at Google said, "India is now the fastest growing smartphone market in the world, and it's exciting to launch our newest Nexus phones here. We're looking forward to the Nexus 5X and 6P delivering premium experiences for Indian users, demonstrating what is possible when innovative hardware, thoughtful design, and the latest Android software all come together."
LG Nexus 5X features
Display: 5.2 inch LCD screen, FHD (1080) resolution, Corning Gorilla Glass 3, fingerprint and smudge-resistant oleophobic coating
Dimensions: 147.0 x 72.6 x 7.9 mm, weighs 136 grams
Processor: Qualcomm Snapdragon 808 processor hexa-core 64-bit processor, Adreno 418 GPU, 2 GB LPDDR3 RAM
Camera: Rear- 12.3 MP with IR Laser-Assisted autofocus, 5 MP front camera
Huawei Nexus 6P features
Display: 5.7 inches, WQHD (2560 x 1440) AMOLED display at at 518 ppi, Corning Gorilla Glass 4
Dimensions: 159.3 X 77.8 X 7.3 mm, weighs 178
Processor: Qualcomm Snapdragon 810 Octa-core 64-bit processor, Adreno 430 GPU, 3 GB LPDDR4 RAM
Camera: Rear- 12.3 MP with IR Laser-Assisted autofocus, 8 MP front camera
Both the smartphones are equipped with Android Sensor Hub, something like a co-processor in Apple iPhones.